by Karin Calloway


Potato salad is ever present at picnics, potlucks and fish fries, and one of my favorite versions is Old Fashioned Potato Salad with Bacon. It's "old fashioned" because it is sauced with a cooked sweet and tangy dressing. Eggs, sugar, mustard, salt and apple cider vinegar are simmered together until thickened for the dressing base, and then whipping cream is added to thin the dressing slightly.

When making potato salad it is important to season the cooked, diced potatoes well with salt and freshly ground black pepper. This ensures that the potatoes themselves are not bland before being tossed with the dressing. Chopped green onion and bacon add extra crunch and saltiness here, and you also can add several chopped hard-cooked eggs. This potato salad can be made a day ahead, and it feeds a crowd.


4 eggs, beaten
1/2 cup sugar
2 tablespoon mustard
1/2 teaspoon salt
1/2 teaspoon apple cider vinegar
1 cup whipping cream
3 pounds red potatoes, boiled and diced
Salt and freshly ground black pepper, to taste
6 green onions, sliced
12 strips bacon, cooked, drained and crumbled
Whisk the eggs, sugar, mustard, salt and vinegar together in a small saucepan over medium-high heat. Cook until thickened. Set aside to cool for 10 minutes and then whisk in the whipping cream.

Place potatoes in a large bowl, season with salt and pepper to taste, and gently stir. Add green onions and bacon. Pour dressing over the top and toss gently to combine. Refrigerate for several hours before serving.



Makes 8 to 10 servings.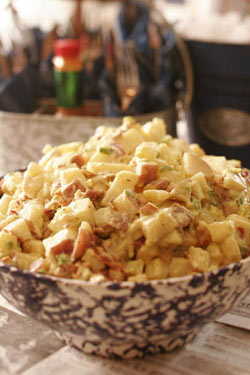 Related Menus
Catfish Fry
Related Recipe Categories
Vegetables and Sides
Related Products
7-Ply Sauce Pans

Viking Professional Cookware products are manufactured with exclusive Multi-Ply construction. Multi-Ply construction is a specially designed combination of stainless steel and aluminum alloys for lifetime performance, durability with easy cleanup, quick and even heat distribution.

The ergonomic stainless steel handle, a Viking Design exclusive, provides maximum comfort and secure handling. Designed in the USA, made in Belgium.
2 qt. and 3 qt. sauce pans are currently on backorder.
Chef's Knives - VCSR

This ultra premium cutlery is handcrafted in Solingen, Germany using old world standards. One piece forged construction of the optimum combination of high carbon - chromium - vanadium stainless steel provides for an easy to sharpen and long lasting edge.
This product is currently on backorder.