by Karin Calloway


Pie is king of the holiday dessert table, and pumpkin and pecan pies are traditional favorites. My Pumpkin-Pecan Pie Cake combines the two flavors in a tall three-layer cake that is quite simple to prepare.

The pumpkin cake layers start with a yellow cake mix, but the addition of pumpkin puree and pumpkin pie spice leave no clue that the cake was not baked from scratch. For an extra spicy version, substitute a spice cake mix for the yellow. The cake gets loads of crunch since pecans are sprinkled in the bottom of each cake pan before the batter is added.

The buttery, rich custard that is the key to a good pecan pie is cooked and whisked in a saucepan on the stove. Once chilled, it's spread between the cake layers for a decadent, pecan-pie flavored filling.

Dust the top of the cake with powdered sugar mixed with a bit of pumpkin pie spice, and serve slices of the cake topped with a dollop of fresh whipped cream this Thanksgiving or any time you want to enjoy the flavors of the holidays.



Cake




1 1/2 cups chopped pecans
1 18.25-ounce package yellow cake mix
1 15-ounce can pumpkin puree
3 large eggs
2 teaspoons pumpkin pie spice
Preheat oven to 350 degrees F. Spray 3 9-inch round cake pans with cooking spray. Sprinkle 1/2 cup pecans evenly in the bottom of each cake pan. Set pans aside.

Place cake mix, pumpkin puree, eggs and pumpkin pie spice in stand mixer fitted with "V" beater. Beat at low speed for 30 seconds to blend the ingredients. Scrape down the sides of the bowl with a rubber spatula and then beat for 2 minutes on medium speed. Divide batter between prepared pans, smoothing with a rubber spatula. Bake for 25 minutes, or until toothpick inserted in the center comes out clean. Cool on wire racks until completely cool.



Pecan-Pie Filling




1/2 cup light brown sugar, packed
3/4 cup light corn syrup
1/3 cup cornstarch
4 egg yolks
1 1/2 cups half and half
1/8 teaspoon salt
3 tablespoons butter or margarine
1 teaspoon vanilla extract
Place brown sugar, corn syrup, cornstarch, egg yolks, half and half and salt in a heavy 3-quart saucepan and whisk until smooth. Bring to a boil over medium heat, whisking constantly. Boil for 1 minute, or until mixture thickens. Remove from heat. Whisk in butter and vanilla. Press plastic wrap or wax paper onto the surface of the pecan pie filling and chill for 4 hours or longer.



To Assemble




1/2 cup confectioners' sugar
1 teaspoon pumpkin pie spice
Place 1 layer of the cake, pecan-side up, on a cake stand. Spread with half of the pecan pie filling. Place a second layer on top of the filling, spread with remaining filling. Place the third layer on top, pecan-side up. Combine confectioners' sugar and pumpkin pie spice and sift over the top of the cake.



Makes 12 servings.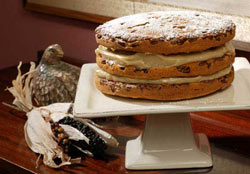 Related Menus


Thanksgiving Feast



Related Recipe Categories


Desserts




Related Products


Thanksgiving Feast
When you open popular cooking magazines it's hard to resist the urge to toy with tradition when it comes to the Thanksgiving feast.