by Karin Calloway


Whenever a restaurant menu offers up "Pasta Quattro Formaggi" I'm usually a taker. Cheese lover that I am, what could be better than pasta sauced with four different cheeses? I've taken the four-cheese idea and created a delicious hot spinach dip that's perfect for entertaining any time of year.

The dip comes together in a snap, with the help of frozen chopped spinach, pre-crumbled Gorgonzola, and pre-grated Romano and Monterrey Jack cheeses. Add creaminess from sour cream, whipping cream, and cream cheese spread with chive and onion (the fourth cheese), and extra flavor from garlic, lemon juice and hot sauce, and you've got a party favorite.

The dip can be prepared ahead and baked just before serving. If you are baking the dip in a glass container, be sure to let the dip sit at room temperature for 30 minutes before baking.


3 10-ounce packages frozen chopped spinach, thawed and drained well*
1 cup sour cream
1/2 cup whipping cream
1/2 cup cream cheese with chive and onion spread, softened
1 clove garlic, pressed
Juice of 1/2 lemon
1/2 teaspoon freshly ground black pepper
3 dashes hot sauce
1/2 cup grated Romano, Parmesan or Kasseri cheese
1/2 cup grated Monterrey Jack or Muenster cheese
4 ounces crumbled Gorgonzola or other blue cheese, divided
Corn or pita chips, for serving
Preheat oven to 350 degrees F. Place spinach in a large bowl and stir in sour cream, whipping cream, cream cheese spread, garlic, lemon juice, black pepper and hot sauce. Fold in the grated cheeses and all but 1 tablespoon of the crumbled Gorgonzola. Spread in a round baking dish that has been sprayed with nonstick cooking spray and bake for 30 to 35 minutes, until bubbly. Serve with corn or pita chips.



Makes 12 appetizer servings.



*The easiest way to extract the liquid from frozen spinach is to squeeze it between two dinner plates.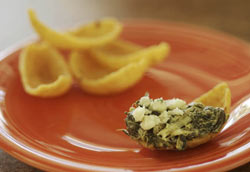 Related Recipe Categories
Vegetables and Sides