by Karin Calloway


There are some who believe that you can never have too much chocolate. So, if you're a chocoholic or have a raging sweet tooth, my Rocky Road Squares are sure to hit the spot.

I developed this recipe after sampling some over-the-top confections at a gourmet takeout counter. After waiting in line and watching a huge platter full of Rocky Road Squares practically disappear, I couldn't resist buying some for my family. After they were devoured to rave reviews, they begged me to come up with a recipe of my own.



Cake Layer




1 18.25-ounce Devil's Food cake mix
1 cup cola beverage
1/2 cup vegetable oil
3 eggs, beaten
1/2 cup chopped pecans
Cream Cheese Layer
16 ounces Cream Cheese
1/2 cup (1 stick) butter or margarine, softened
3 eggs
1 cup sugar
4 tablespoons all-purpose flour
1 teaspoon vanilla
1 cup chocolate morsels
1/2 cup chopped pecans
1 10.5-ounce bag miniature marshmallows
1 16-ounce tub chocolate frosting
Preheat oven to 350 degrees F. Spray a 10-by-15-inch glass baking dish with nonstick cooking spray and set aside.

In the bowl of a heavy-duty stand mixer or in a large bowl with a hand mixer, combine the cake mix, cola, oil and eggs. Beat until well combined, and then fold in the chopped pecans. Pour into the prepared baking dish and set aside.

Beat cream cheese and butter together in the bowl of a heavy-duty stand mixer or large bowl with a hand mixer. Add the eggs, one at a time, until incorporated. Beat in the flour and sugar. Fold in the vanilla. Spread over the chocolate cake base, place in the oven on the middle rack and bake for 40 minutes.

Remove from oven and sprinkle with the chocolate morsels and miniature marshmallows. Return to oven and bake 8 minutes more.

Remove from oven and place on a cooling rack. Heat the chocolate frosting in a saucepan over low heat, until softened, or heat in a microwave-safe bowl for 1 to 2 minutes. Drizzle over the cake and let cool for 1 hour before serving. Store in the refrigerator.



Makes 24 squares.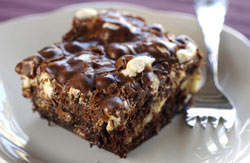 Related Recipe Categories
Desserts
Related Products
7-Ply Sauce Pans

Viking Professional Cookware products are manufactured with exclusive Multi-Ply construction. Multi-Ply construction is a specially designed combination of stainless steel and aluminum alloys for lifetime performance, durability with easy cleanup, quick and even heat distribution.

The ergonomic stainless steel handle, a Viking Design exclusive, provides maximum comfort and secure handling. Designed in the USA, made in Belgium.
2 qt. and 3 qt. sauce pans are currently on backorder.