by Karin Calloway


Succotash is an old-time side dish, and in its simplest form is just lima beans and corn simmered in a saucepan. But chefs all over the country are coming up with new versions that are packed with flavor.

My Southwestern Succotash is the perfect replacement for pinto beans on a Southwestern menu, and it's loaded with vegetables. The usual limas and corn are present, along with diced zucchini and yellow squash. Chopped shallots provide a nice flavor base, and diced red bell pepper gives the dish added color. A sprinkling of ground cumin is the Southwestern secret ingredient here.

I like to serve this veggie-packed sauté with the Chile-Rubbed Tenderloin posted on this site, but it also makes a wonderful base for grilled or roasted sea bass, salmon or Mississippi farm-raised catfish. Just rub your fish of choice with some Southwestern seasonings and grill or roast (at 400 degrees) for about 10 minutes per inch of thickness.


1 tablespoon olive or vegetable oil
1 shallot, peeled and finely chopped
1/2 teaspoon ground cumin
2 small zucchini, diced
2 yellow squash, diced
1 10-ounce package frozen baby lima beans, defrosted
2 ears grilled corn, kernels removed, or 1 cup frozen corn, defrosted
1/2 red bell pepper, diced
Sea salt and freshly ground black pepper, to taste
Heat oil on medium-high in a large sauté pan. Add shallots, cumin, zucchini, squash and lima beans and sauté until the vegetables begin to get tender, about 3 minutes. Add the corn and red bell pepper, and sauté about 3 minutes more. Season to taste with the salt and black pepper and serve.



Makes 6 to 8 servings.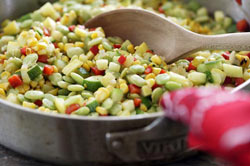 Related Menus


Sophisticated Southwestern



Related Recipe Categories


Vegetables and Sides




Related Products


Catfish Fry
Gathering friends and family for an impromptu backyard cookout is a fun and spontaneous way to entertain. Spreading newspapers on the picnic table and calling friends together for a fish fry is a fun and easy way to feed a crowd.