by Karin Calloway


Flash back five years and the rice aisle of the supermarket looks dramatically different than it does today. The packaged rice mixes and dried white rice now sit alongside exotic varieties of rice and boxes of couscous – super fine grains of pasta that cook up in mere minutes. While you can purchase couscous in a plethora of flavors, I like to spice plain grains of couscous in my kitchen. I cook the couscous in chicken broth with some allspice, and then stir in golden raisins, orange zest and orange flower water for a luscious, exotic side dish.

This Spiced Couscous can be served along side the Lamb Tagine recipe found on this site, but I also like it as an accompaniment to chicken or beef teriyaki or pork or lamb chops hot off the grill.


3 cups chicken broth
1/4 teaspoon allspice
1 10-ounce package plain quick cooking couscous
1/2 cup golden raisins
Fresh orange zest and orange flower water, to taste (about 1 teaspoon orange zest and 1 tablespoon orange flower water)
Place broth and allspice in a saucepan and bring to a boil. Add couscous and cook 2 minutes. Remove from heat, stir in the raisins, cover and let stand 5 minutes. Stir in the orange zest and orange flower water and fluff with a fork before serving.



Makes 6 to 8 servings.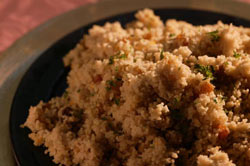 Related Menus


Memorable Moroccan



Related Recipe Categories


Vegetables and Sides




Related Products


Sumptuous Soup Supper
There's nothing more satisfying than offering guests a hearty meal of homemade soup during an evening spent enjoying a college football game or chatting with friends and neighbors in front of the fire.