This wonderful main dish salad is as pretty as it is delicious. If you are short on time, garnish with packaged tortilla chips instead of frying your own. If you have the time to fry your own tortillas though, it's worth it!



Dressing




2 cloves garlic, minced
1 small jalapeño, stemmed, seeded, and finely diced
1/3 cup tequila
1⁄4 cup Grand Marnier or Triple Sec
1⁄4 cup freshly squeezed lime juice (about 2 medium limes)
1 teaspoon ground cumin
1⁄4 cup extra-virgin olive oil
2 tablespoons chopped fresh cilantro
Salt and freshly ground black pepper, to taste
Combine the garlic, jalapeño, tequila, Grand Marnier, lime juice, and cumin in a small saucepan over medium heat. Bring to a simmer and cook until the mixture has reduced by half. Remove the pan from the heat; transfer the dressing to a bowl to cool. Whisk in the olive oil and cilantro, then season to taste with salt and pepper; set aside until needed.



Salad




2 tablespoons olive oil
1 clove garlic, minced
1⁄2 teaspoon salt, or to taste
3⁄4 teaspoon ground cumin
1⁄2 teaspoon cayenne pepper
2 teaspoons chile powder, divided
12 jumbo shrimp (21/25 count), peeled, tails left intact, deveined, and butterflied
Vegetable oil, for frying tortillas
4 (6-inch) corn tortillas cut into julienne strips
6 cups romaine lettuce, torn into bite-size pieces
1 medium ripe red tomato, peeled, seeded, and diced
1 medium yellow bell pepper, stemmed, seeded, and diced
1 medium ripe avocado, peeled, seeded, and diced
1⁄4 cup cooked black beans (canned are fine)*
4 lime wedges, for garnish
1⁄4 cup Cilantro Cream (recipe below)
You will need 12 (4-inch) bamboo skewers, soaked for 30 minutes to 1 hour in water. Combine the olive oil, garlic, salt, cumin, cayenne, and 1 teaspoon of the chili powder. Add the shrimp and toss to coat thoroughly and evenly; refrigerate for at least 30 minutes.

Fill a medium saucepan with 1-inch of oil; place over medium heat. When the oil reaches 375°F, fry the tortilla strips in batches until crisp and light golden brown. Drain on paper towels. Sprinkle with salt and the remaining chile powder while the tortilla strips are still warm; set aside until needed.

Preheat a grill to medium-high heat. Clean the grill grates with a stiff brush, then oil liberally to prevent sticking. (Note: To use a grill pan, preheat the pan to medium-high heat; add the oil and heat through.) Grill the shrimp until just pink and cooked through, approximately 1 to 2 minutes per side.

In a large bowl, mix together the lettuce, tomato, pepper, avocado, and black beans. Toss the salad with just enough of the dressing to coat lightly. Drizzle four chilled plates with cilantro cream. Mound an equal amount of salad mixture in the center of each plate. Arrange three warm shrimp on top of each salad. Garnish with crispy tortilla chips and lime wedges; serve immediately.

* Note: Drain and rinse canned beans before using in salad.



Serves 4





Cilantro Cream




1⁄4 cup sour cream
1 teaspoon chopped fresh cilantro
1 teaspoon finely minced lime zest (about 1 medium lime)
1 tablespoon freshly squeezed lime juice (about 1⁄2 medium lime)
Salt, to taste
Combine sour cream, cilantro, lime zest and lime juice in a small bowl. Whisk to combine thoroughly. Season to taste and refrigerate until needed.



Makes 1⁄4 cup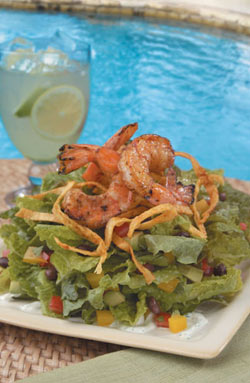 Related Recipe Categories
Soups and Salads
Related Products
7-Ply Sauce Pans

Viking Professional Cookware products are manufactured with exclusive Multi-Ply construction. Multi-Ply construction is a specially designed combination of stainless steel and aluminum alloys for lifetime performance, durability with easy cleanup, quick and even heat distribution.

The ergonomic stainless steel handle, a Viking Design exclusive, provides maximum comfort and secure handling. Designed in the USA, made in Belgium.
2 qt. and 3 qt. sauce pans are currently on backorder.