4 large russet potatoes, peeled
2 quarts canola or peanut oil
Salt and freshly ground black pepper, to taste
Cut potatoes lengthwise into 1⁄4-inch by 1⁄4-inch thick sticks.* As you cut potatoes, place them immediately into a large bowl of ice water. Change the water several times until it runs clear and free of starch particles. Cover potatoes by at least 1 inch with fresh ice water and soak for at least 30 minutes or as long as 24 hours.

Fill a deep-fat fryer or saucepan with fry basket insert halfway with oil, and attach a candy/deep-fry thermometer. Slowly heat oil over medium-low until it reaches 325 - 350 degrees F. Drain potatoes and blot thoroughly with paper towels until very dry. (If potatoes are wet, oil will splatter during frying.)

Carefully add fries in small batches to the hot oil, stirring to prevent potatoes from sticking to one another. Cook for about 5 to 6 minutes to blanch. (Potatoes will be pale.) Using a spider or a large-hole slotted spoon, remove potatoes to a wire rack set over paper towels to drain. Let rest on the rack for 10 minutes or as long as 2 hours.

When all of the potatoes have been blanched, increase the oil temperature to 375 - 390 degrees F. In small batches, fry potatoes a second time until golden brown and puffed, about 2 to 3 minutes. Using a slotted spoon, remove the frites to baking sheets lined with several layers of paper towels. Season to taste with salt and pepper. To keep the pommes frites warm while frying the remaining batches of blanched potatoes, place in a 300 degree F oven until ready to serve.

*Note: Use a mandoline or potato cutter for pommes frites to ensure evenly-sized pieces for even cooking.

Make It Ahead: Wrap blanched potatoes in thick paper towels and seal in zip-top bags; freeze for up to 1 month.

Variation: For Oven Fries, follow Step 1 and Step 3 as directed in recipe above. Then toss the dry potato sticks with olive oil and season to taste with salt and pepper. Place on an oiled, heavy-duty non-stick baking sheet, cover with aluminum foil, and roast at 475°F for 10 minutes. Remove the foil and continue roasting until crisp and brown, about 20 minutes more. Halfway through cooking time, use a metal spatula to flip the potatoes.

Serving Suggestion: Serve with Roasted Red Pepper Aioli.

Serves 4.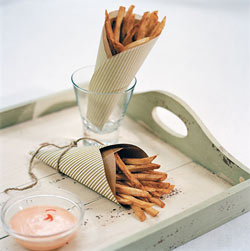 Related Recipe Categories
Vegetables and Sides