Performed tableside at countless restaurants around the world, Crêpes Suzette is one of the most famous desserts of all times. A delightful combination of cuisine and theater, it was created in 1895 by 14-year old Henri Charpentier at the Café de Paris in Monte Carlo. He was preparing a dessert tableside for the Prince of Wales, the future King Edward VII of England, when the cordials he was using in the dessert accidentally caught fire from a nearby chafing dish. What a lucky and delicious accident!



Crêpes




2 large eggs
3/4 cup whole milk
3 ounces (1/2 cup) unbleached all-purpose flour
2 tablespoons unsalted butter, melted, plus additional for pan
2 tablespoons granulated sugar
1/2 teaspoon fine salt
1 Tablespoon cognac or orange liqueur (such as Grand Marnier), optional
In a blender or food processor, combine eggs and milk. Add flour, melted butter, sugar, salt, and cognac (or liqueur if using). Whisk together to combine, then refrigerate for at least 1 hour.

Pour batter into a measuring cup with a pouring spout. Heat crêpe pan and add a small amount of butter. When it melts, wipe out pan with a paper towel. Test pan with a few drops of batter; if they sizzle, the pan is ready.

Hold pan in one hand, pour a small amount (about 2 to 3 Tbsp.) of batter into the pan with your other hand. Immediately swirl pan to coat the bottom evenly with a thin film of batter; pour excess batter back into measuring cup through a small strainer. Return pan to heat and cook crêpe until it is set and the bottom is golden brown, about 30 seconds. Shake pan back and forth to release crepe, then lift the edge with a spatula and flip it over either with your fingers or the spatula. Cook an additional 10 to 15 seconds, then turn out of the pan onto a plate. Continue until all the batter is used, stacking crêpes on top of each other.

Fold each crêpe in half and then in half again, forming a triangle, and layer on a warm platter.

Sauce


1/4 cup orange liqueur (such as Grand Marnier)
1/4 cup cognac
1 Tablespoon orange zest (about 1 medium orange)
1/2 cup orange juice, freshly squeezed (about 1 large orange)
1 stick (8 Tbsp.) unsalted butter
4 Tablespoon granulated sugar
Confectioners' sugar (for garnish)

Combine orange liqueur and cognac in a small measuring cup with a pour spout and set aside.

In a large sauté pan, bring zest, juice, butter, and sugar to a boil. Simmer on medium-high heat until slightly thickened, about 3 or 4 minutes.

Remove pan from heat and place crepes in the pan in a single layer; turn each crepe over to coat both sides with the sauce. Return pan to heat.

Add cognac and orange liqueur and heat through. Carefully ignite cognac and liqueur*; shake pan back and forth until the flames subside.

Place 2 crepes on each desert plate; spoon some of sauce over each serving. Garnish with confectioners' sugar and serve immediately.

* Carefully add cognac and liqueur to the hot pan. Use a long match or lighter to ignite cognac. Be prepared for a whoosh of potentially far-reaching flames and stand back accordingly, making sure to avert your face. Do not pour liquor straight from the bottle to the hot pan. The lit fumes can follow the liquor stream back to the bottle and cause an explosion. Pour the needed amount into a different container, and then add.



Serves 4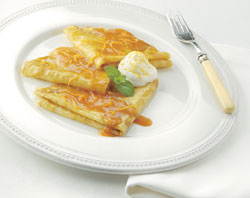 Related Recipe Categories


Desserts




Related Products


Saute Pans


Viking Professional Cookware products are manufactured with exclusive Multi-Ply construction. Multi-Ply construction is a specially designed combination of stainless steel and aluminum alloys for lifetime performance, durability with easy cleanup, quick and even heat distribution.

The ergonomic stainless steel handle, a Viking Design exclusive, provides maximum comfort and secure handling. Designed in the USA, made in Belgium.

3 qt. Sauce Pan is currently on backorder.

Apple and Dried Plum Tart with Cognac
Sweet dried plums are tucked among wedges of fresh apple in this simple dessert. A generous splash of Cognac complements the fruit. Brush melted apricot preserves over the warm tart for a quick and delicious glaze.