by Karin Calloway


This Spiced Honey Cake is the perfect fall or holiday dessert that sweetens the house wit the aroma of cardamom, ginger, cinnamon and nutmeg. Perfect for entertaining, this cake tastes best when made ahead Spiced Honey Cake.

This type of cake appears regularly during Rosh Hashanah. The substitution of strong tea in place of the usual coffee makes this a mellower version. And, the entire cake is oh so simple to prepare in your Viking food processor.


3 cups all-purpose flour
2 teaspoons baking powder
2 teaspoons baking soda
Pinch of salt
2 teaspoons ground cardamom
2 teaspoons ground ginger
2 teaspoons cinnamon
1/4 teaspoon nutmeg
4 eggs
1 cup light brown sugar, packed
1 cup vegetable oil
1 cup honey
1 cup very strong warm tea (2 tea bags steeped in 1 cup hot water)
Vanilla Ice Cream, for serving
Prepared Caramel Sauce, for serving


Preheat the oven to 325 degrees. Combine the flour, baking powder, baking soda, salt, cardamom, ginger, cinnamon and nutmeg in a medium bowl and set aside.

In a food processor, process the eggs with the sugar, oil and honey, just until combined. Add 1/3 of the dry ingredients and pulse. Add 1/3 of the tea and pulse. Add the dry ingredients and tea in two more additions, pulsing 2 to 3 times after each addition, just to incorporate.

Spread the batter in a greased Bundt or tube pan. Bake for 45-50 minutes or until a knife inserted in the center of the cake comes out clean. Cool 10 minutes in the pan and then invert the cake onto a rack to cool. Serve with a scoop of ice cream and a drizzle of warm caramel sauce, if desired.



Makes 12 servings.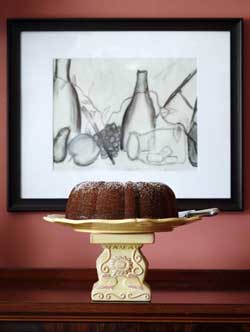 Related Menus


Flavors of Fall



Related Recipe Categories


Desserts




Related Products


30" Custom Sealed Burner Dual Fuel Range - VDSC
As every cook knows, perfection is a never-ending process. The dual fuel sealed burner range is proof of that. From the delicate VariSimmer™ setting to the 15,000 BTUs, available on all four burners, this is the most precise and powerful sealed burner system available. The redesigned range also offers the largest oven capacity and one of the fastest preheat times on the market.