by Karin Calloway


Preparing Asian recipes used to require a trip to a specialty market, but now many of those hard-to-find items are on the shelves of your corner supermarket. Canned coconut milk, Thai curry paste and Asian fish sauce are easy to find and combine to make a luscious sauce for this grilled or roasted halibut.

Some of the ingredients in the sauce are harder to find, specifically the kaffir lime leaves and lemon grass, but substitutions for these ingredients are listed in the recipe. The sauce is delicious on top of the halibut, but also can be used to top grilled chicken breasts. You also can turn the sauce into a saucy Thai shrimp dish by bringing the sauce to a simmer and adding 1-2 pounds of peeled and deveined shrimp.

Serve the halibut over cooked white rice or the Jasmine Shrimp Fried Rice recipe found on this site.



Red Curry Sauce




1 14.5-ounce can unsweetened coconut milk
12 whole green cardamom pods, crushed
3 fresh kaffir lime leaves or 3 long strips of lime peel
1 stalk lemon grass, pounded with the back of a chef's knife and cut into 3 pieces or 3 long strips of lemon peel
6 whole basil leaves
2 garlic cloves, peeled and roughly chopped
2 tablespoons light brown sugar
Juice of 1 lime
2 teaspoons Thai red curry paste, or more to taste
1 tablespoon Asian fish sauce

Combine all ingredients in heavy medium saucepan. Bring to boil over medium-high heat, whisking to blend. Reduce heat to medium and simmer 1 minute. Remove from heat. Cover and let sauce stand at room temperature 10 minutes for flavors to blend. Strain. Season sauce to taste with salt and pepper. (Can be made ahead and stored, covered, in the refrigerator for up to 2 days. Reheat before serving.)

Fish


8 6 to 8-ounce halibut fillets
Sesame oil for brushing halibut

Prepare grill. Brush halibut with oil and sprinkle with salt and pepper to taste. Grill halibut on an oiled rack set 5 to 6 inches over glowing coals until just cooked through, about 5 minutes on each side. (Alternately, the fish can be roasted in a 400-degree oven for 10-12 minutes.)

Place a scoop of rice (or Jasmine Shrimp Fried Rice, see recipe on this site) in the center of dinner plates and arrange halibut on top. Place the vegetables around the outside of the plate and spoon sauce on top of the fish.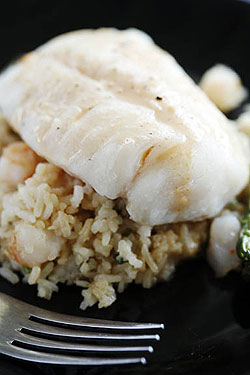 Related Menus


East-West Dinner Party



Related Recipe Categories


Main Dishes




Related Products


East-West Dinner Party
This East-West Dinner Party menu creates a harmonious blending of the culinary cultures of the Far East with ingredients and cooking methods common to the West.