Courtesy of The Catfish Institute

Tropical Fruit Salsa
2 cups mango and/or papaya
2 tablespoons chopped cilantro
1 tablespoon jalapeno
1 tablespoon minced green onion or chives
2 tablespoons lime juice
1 tablespoon honey
In a small bowl, combine mango and/or papaya, chopped cilantro, jalapeño, and minced green onion or chives. Stir in lime juice and honey.

Fish


1 teaspoon finely minced garlic
1/2 teaspoon salt
1/2 teaspoon ground black pepper
1/4 teaspoon ground red pepper
4 U.S. farm-raised catfish fillets (

about 6 oz. each

)
2 teaspoons olive oil
Preheat grill or broiler. In a small bowl, combine garlic, salt, and black and red peppers. Brush one side of each fish fillet with 1/2 teaspoon olive oil and sprinkle with spice mixture. Grill or broil on a rack 4 inches from heat source for 4 to 6 minutes, or until the fish is cooked through. Serve with Tropical Fruit Salsa; if desired, garnish with chives.

Yield: 4 portions

Per Portion:  348 cal, 17 g fat, 31 g protein, 16 g carbohydrates, 1 g fiber, 92 mg cholesterol, 398 mg sodium.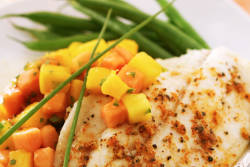 Related Recipe Categories
Main Dishes
Related Products
7-Ply Sauce Pans

Viking Professional Cookware products are manufactured with exclusive Multi-Ply construction. Multi-Ply construction is a specially designed combination of stainless steel and aluminum alloys for lifetime performance, durability with easy cleanup, quick and even heat distribution.

The ergonomic stainless steel handle, a Viking Design exclusive, provides maximum comfort and secure handling. Designed in the USA, made in Belgium.
2 qt. and 3 qt. sauce pans are currently on backorder.