by Karin Calloway


While some think there's nothing like a big dose of chocolate at the end of a meal, others prefer the tang of lemon to cleanse the palette. This little Lemon Tart will please the later and it is quite simple to prepare if you start with store-bought pie crust dough. The crust is pre-baked and then is filled with a simple lemon custard.

The Berry Sauce starts with frozen berries, making it a delicious year-round recipe. Fresh berries are folded in after the sauce simmers, offering a contrast in flavor and texture.



Lemon Tart




1/2 package prepared pie crust
4 large eggs
1 cup sugar
Zest from 1 lemon
1/2 cup plus 2 tablespoons fresh lemon juice (from 2 or 3 lemons)
Preheat the oven to 400 degrees F. Arrange the pie crust dough in a 9-inch tart pan with a removable bottom and trim it to fit. Line the crust with foil or parchment paper and weight with beans, rice or pie weights. Bake until the edges are light golden brown, about 20 minutes. Carefully remove the weights and foil and bake for 5 minutes more, until the bottom is dry and golden brown. Cool to room temperature. (Note: Crust can be baked one day ahead.)

Preheat the oven to 350 degree. Whisk the eggs in a medium bowl. Whisk in the sugar until just combined. Whisk in the zest and lemon juice. Pour into the prepared pie crust, reduce the oven temperature to 325 degrees and bake for 25-30 minutes, until the filling is set. Cool at room temperature. Serve at room temperature or chilled.

Berry Sauce


1 10-ounce bag frozen mixed berries, defrosted
2 tablespoons confectioners' sugar
2 teaspoons cornstarch
1 tablespoon Chambord liqueur or cold water
1 cup fresh strawberry, washed, dried, cored and quartered
1/3 cup blueberries, washed and dried
Combine the frozen berries and sugar in a medium saucepan. Bring to a boil over medium-high heat. Reduce heat and simmer for 5 minutes.

Whisk together e the cornstarch and Chambord or water and stir into the berry mixture. Increase the heat to high and stir constantly until thickened, about 2 minutes. Remove sauce from heat and stir in sliced strawberries and blueberries. Serve warm.



Makes 1 1/3 cups.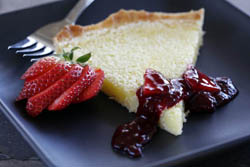 Related Menus


Spring Lamb



Related Recipe Categories


Desserts




Related Products


Spring Lamb
Serving lamb in the spring is a culinary tradition that dates back to the time when lamb was not available year-round. Despite the continuous availability of lamb today, the tradition still holds.