From "In the Land of Cocktails", by Ti Adelaide Martin and Lally Brennan


1 ounce Stolichnaya Orange vodka
1/2 ounce peach schnapps
1/2 ounce limoncello
1/2 ounce fresh lemon juice
1/2 ounce Simple Syrup, optional
Combine all the ingredients in a cocktail shaker with ice and shake vigorously. Strain into a chilled Martini glass and serve immediately.



Makes 1 cocktail.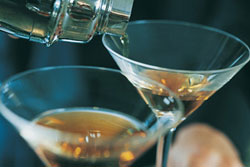 Related Recipe Categories


Beverages




Related Products


In the Land of Cocktails
Leave it to these charming New Orleans natives to show that while cocktail alchemy may seem like chemistry, the courses of learning and the final exams are far, far more enjoyable.