by Karin Calloway


Couscous is a quick cook's friend. Pour boiling liquid over the top, cover and set aside. That's all the cooking required. This salad gets its sunny flavor from a double dose of freshly squeezed orange juice. The orange juice and some spices make this a salad recipe you'll turn to often. It is delicious served alongside the Citrus-Q Salmon recipe on this site, but also makes a nice picnic salad served with hamburgers or grilled chicken at your next cookout.



Couscous




3/4 cup freshly squeezed orange juice
1/2 cup water
1 teaspoon ground coriander
1/4 teaspoon ground cinnamon
Sea salt and freshly ground black pepper, to taste
1 cup uncooked regular or whole wheat couscous
1/4 cup golden raisins or dried cranberries
1/4 cup sliced almonds, toasted
In a small saucepan, bring the orange juice, water, coriander, cinnamon, a pinch of salt and black pepper to a boil. Remove from heat and stir in couscous and raisins or cranberries. Cover and let stand 5 minutes. Stir in the almonds. Fluff with a fork and spoon into a serving bowl.

Dressing


1/4 cup freshly squeezed orange juice
1 tablespoon fresh lime juice
2 teaspoons Dijon mustard
1-1/2 tablespoons extra-virgin olive oil
Salt and freshly ground black pepper, to taste
3 tablespoons chopped fresh cilantro
Whisk the orange juice, lime juice and mustard together in a small bowl. Gradually whisk in the oil. Season with salt and pepper and stir into the couscous. Refrigerate until ready to serve. Sprinkle with the cilantro just before serving.



Makes 6 servings.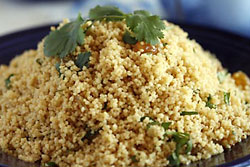 Related Menus


Quick, Easy and Elegant



Related Recipe Categories


Soups and Salads




Related Products


Tempting Tapas
Tapas have been the rage in the culinary world for quite some time, but these nibbles often have little to do with the small plates originating in Spain.