by Karin Calloway


Couscous is a quick cook's friend. Pour boiling liquid over the top, cover and set aside. That's all the cooking required. This salad gets its sunny flavor from a double dose of freshly squeezed orange juice. The orange juice and some spices make this a salad recipe you'll turn to often. It is delicious served alongside the Citrus-Q Salmon recipe on this site, but also makes a nice picnic salad served with hamburgers or grilled chicken at your next cookout.



Couscous




3/4 cup freshly squeezed orange juice
1/2 cup water
1 teaspoon ground coriander
1/4 teaspoon ground cinnamon
Sea salt and freshly ground black pepper, to taste
1 cup uncooked regular or whole wheat couscous
1/4 cup golden raisins or dried cranberries
1/4 cup sliced almonds, toasted
In a small saucepan, bring the orange juice, water, coriander, cinnamon, a pinch of salt and black pepper to a boil. Remove from heat and stir in couscous and raisins or cranberries. Cover and let stand 5 minutes. Stir in the almonds. Fluff with a fork and spoon into a serving bowl.

Dressing


1/4 cup freshly squeezed orange juice
1 tablespoon fresh lime juice
2 teaspoons Dijon mustard
1-1/2 tablespoons extra-virgin olive oil
Salt and freshly ground black pepper, to taste
3 tablespoons chopped fresh cilantro
Whisk the orange juice, lime juice and mustard together in a small bowl. Gradually whisk in the oil. Season with salt and pepper and stir into the couscous. Refrigerate until ready to serve. Sprinkle with the cilantro just before serving.



Makes 6 servings.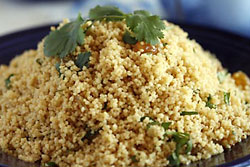 Related Menus
Quick, Easy and Elegant
Related Recipe Categories
Soups and Salads
Related Products
Saute Pans

Viking Professional Cookware products are manufactured with exclusive Multi-Ply construction. Multi-Ply construction is a specially designed combination of stainless steel and aluminum alloys for lifetime performance, durability with easy cleanup, quick and even heat distribution.
The ergonomic stainless steel handle, a Viking Design exclusive, provides maximum comfort and secure handling. Designed in the USA, made in Belgium.
3 qt. Sauce Pan is currently on backorder.