by Karin Calloway


Bean salads are popular summer cookout fare, and this Spanish-inspired Chickpea Salad is an alternative to the usual tangy, sweet bean salad. The salad is usually served in Spain as one of an assortment of tapas – small small portions of appetizers served with wine. It also makes a delicious, hearty summer entrée salad, and there's absolutely no cooking involved.


2 16-ounce cans chickpeas, rinsed and drained
8 ounces cured ham (preferably Serrano ham or prosciutto), cut into 1/4-inch pieces
2 hard-cooked eggs
1/2 cup chopped green onions
1 large tomato, seeded and diced
1/2 cup chopped fresh parsley
1/3 cup extra virgin olive oil
1/4 cup sherry vinegar
1 teaspoon garlic, about 1 medium clove
Sea salt and freshly ground black pepper, to taste
Combine chickpeas, ham, eggs, green onions, tomato and parsley. Whisk olive oil, vinegar and garlic together in a bowl. Season with salt and pepper. Toss dressing with the salad. Taste and add more salt and pepper, if needed.



Makes 8 servings.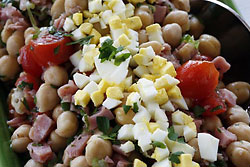 Related Menus


Tempting Tapas



Related Recipe Categories


Soups and Salads




Related Products


Tempting Tapas
Tapas have been the rage in the culinary world for quite some time, but these nibbles often have little to do with the small plates originating in Spain.