by Karin Calloway


Fruit is nature's perfect dessert. But when you want to make a simple preparation of orange segments or poached pears extra special, this zippy Spiced Wine Syrup is a wonderful, make ahead sauce. Plus, the proportions are so simple to remember (a bottle of wine, a cup of sugar, and two cinnamon sticks), that you can simmer the sauce while enjoying a weekend getaway at a cabin or beach house without consulting a recipe.

The oranges in the syrup are the perfect ending to a tapas buffet. Be sure to use a hearty Spanish red wine when you're preparing it to end a fun evening of tapas with your friends.

Wine Syrup


1 bottle (750-ml) dry red wine
1 cup sugar
2 cinnamon sticks, broken in half
Bring wine, sugar and cinnamon to boil in a medium saucepan, stirring until sugar dissolves. Boil until reduced to about 1 cup, about 25 minutes, watching carefully near the end so that the wine doesn't caramelize. Cool syrup completely. Cover and chill.

Oranges


8 oranges
1 tablespoon sugar
Finely grate peel from 2 oranges. Mix peel and sugar in small bowl. Cut the oranges into segments, working over large bowl to catch the juice. Divide oranges and juice among 8 dessert bowls. Drizzle syrup over and sprinkle with sugared orange peel.



Makes 8 servings.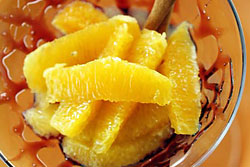 Related Menus


Tempting Tapas



Related Recipe Categories


Desserts




Related Products


Tempting Tapas
Tapas have been the rage in the culinary world for quite some time, but these nibbles often have little to do with the small plates originating in Spain.