by Karin Calloway


Americans aren't the only ones to enjoy chicken wings as an appetizer. Chicken wings appear on Chinese dim sum carts, and as tapas in Spain. This recipe is an incarnation of the latter, a garlicky braise that leaves the wings tender and flavorful.

The recipe calls for cooking the whole wings, but feel free to disjoint the wings and discard the tips to make them easier for guests to enjoy as finger food.


16 chicken wings
Sea salt and freshly ground black pepper, to taste
4 tablespoons olive oil
1 bulb of garlic, separated into cloves and peeled, about 16 cloves
2 tablespoons Spanish sherry or Brandy
1 tablespoon all-purpose flour
1/2 cup dry white wine
1/2 cup chicken broth
2 pinches saffron threads, crumbled
1 teaspoon coarse sea salt
1 teaspoon coarsely crushed black peppercorns
2 tablespoons chopped fresh parsley

Season the chicken wings on both sides with salt and pepper. Heat oil in a large skillet over medium-high heat. Add 8 wings and garlic, and sauté until the garlic turns golden brown and the wings are browned on one side. Remove garlic from the pan, turn the chicken wings and continue browning for 5 minutes on the other side. Remove the chicken and set aside. Add the remaining 8 chicken wings to the pan and brown for 5 minutes per side. Remove and set aside.

While the last 8 chicken wings brown, place the browned garlic, 1 teaspoon coarse salt, and 1 teaspoon coarsely ground black pepper in a mortar and pestle and mash into a paste. Set aside.

Whisk flour into pan. Whisk in sherry and bring to a boil. Stir in wine, broth, saffron and garlic paste. Return chicken wings to the pan, cover and simmer for 15 minutes. Turn chicken wings over and simmer for 15 minutes more. Place wings on a platter and drizzle with sauce. Sprinkle with the parsley and serve.



Makes 8 servings.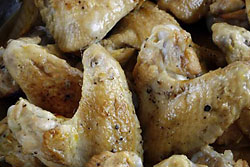 Related Menus


Tempting Tapas



Related Recipe Categories


Main Dishes




Related Products


Non-Stick Fry Pans


Viking Professional Cookware products are manufactured with exclusive Multi-Ply construction. Multi-Ply construction is a specially designed combination of stainless steel and aluminum alloys for lifetime performance, durability with easy cleanup, quick and even heat distribution.

The ergonomic stainless steel handle, a Viking Design exclusive, provides maximum comfort and secure handling. Designed in the USA, made in Belgium.

8" and 11" Non-Stick Fry Pans are currently on back-order.

36" Gas Cooktop - VGSU
Designed to fit virtually all 30" wide cutouts, the built-in gas cooktops make it simple to replace old cooktops with Viking commercial cooking power.