by Karin Calloway


My sister has had a new obsession for the past six months or so. She can't get enough Tres Leche Cake from a favorite restaurant of hers. If you saw my sister you would doubt she'd ever eaten a single piece of cake, but she has become a true connoisseur of the rich white cake that's soaked in three kinds of milk.

To help her get her restaurant fix without leaving home I came up with this quick and easy version that starts with a cake mix. The cake is best if it refrigerates overnight. When you're ready to serve you can ice the cake with sweetened whipped cream or just place a dollop of the cream on every slice.



Cake




1 package white cake mix
1 1/2 cups flour
5 eggs
1 cup sugar
2/3 cup cooking oil
1 teaspoon vanilla
1 teaspoon baking powder
1 cup milk
Filling
1 cup whole milk
1 14-ounce can sweetened condensed milk
1 cup whipping cream
Whipped Cream
1 cup whipping cream
3 tablespoons powdered sugar
1 teaspoon vanilla

Preheat the oven to 350 degrees F. Grease and flour a 9x13-inch baking dish and set aside.

Beat all of the cake ingredients together in a stand mixer until smooth. Spread the batter evenly in the prepared baking dish. Bake for 40-45 minutes, until knife inserted in center comes out clean. Remove from the oven and set aside for 5 minutes. Invert cake onto a baking sheet with sides or a large rectangular platter. Poke holes in the cake with thin pairing knife or a skewer.

Whisk the milks and the cream together in a large measuring cup with a spout. Pour a little of the milks over the cake, allowing it to soak in before adding more. Cover with plastic wrap and refrigerate for 2 hours or overnight.

When ready to serve, prepare the sweetened whipped cream by whipping the cream, sugar, and vanilla to stiff peaks. Ice the cake with the whipped cream or place a dollop of the whipped cream on each slice of the cake.



Makes 10-12 servings.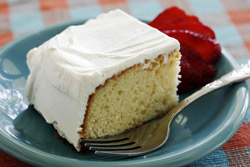 Related Menus


Mexican on the Grill



Related Recipe Categories


Desserts




Related Products


Thai Appetizers
We've got a delicious spread of Thai appetizers that are perfect for late-summer entertaining. The menu is meaty enough to satisfy your hungriest male guests.