by Karin Calloway


One of my favorite dishes at our corner Thai restaurant is a warm ground beef salad served over crisp shredded cabbage and lettuce leaves. I've taken the idea and turned it into a pickup appetizer by serving the warm beef mixture in little butter lettuce leaves and then garnishing them with the shredded cabbage.

The recipe is quick and easy and I find I usually have most of the ingredients on hand. You can substitute ground chicken or pork if that's what you have in the fridge or freezer.


1 pound extra-lean ground beef
1/2 cup fresh lime juice
2 tablespoons Asian fish sauce
2 shallots, peeled and very thinly sliced
1/2 teaspoon crushed red pepper flakes
1 green onion, very thinly sliced
2 tablespoons chopped fresh Cilantro
Butter lettuce leaves, for serving
Very thinly sliced small hot peppers, for garnish
Mint leaves, for garnish
Shredded cabbage, for garnish
Chop ground beef well. Place beef in a cold nonstick skillet and stir in lime juice, fish sauce and shallots. Place skillet over a burner and turn heat to medium-high. Cook ground beef mixture for 5-10 minutes, until beef is completely cooked. Remove skillet from heat and add chopped green onion and cilantro.

To serve, place a spoonful of the meat mixture over the lettuce leaves and garnish with peppers, mint and cabbage.



Makes 6 servings.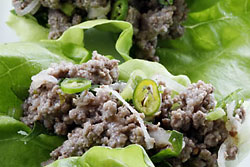 Related Menus


Thai Appetizers



Related Recipe Categories


Appetizers




Related Products


30" Custom Sealed Burner Range - VGCC
The new sealed burner gas range offers updated styling and even more exceptional features. The best can always be better. So our engineers pored over our Viking ranges, fine-tuning every detail in the process. The Pro Sealed Burner System delivers precision control of 15,000 BTUs. And inside the oven, the combination of a 30,000 BTU u-shaped burner and GourmetGlo(TM) infrared broiler provide unrivaled power. 7" Santoku Knife - VCSR


This ultra premium cutlery is handcrafted in Solingen, Germany using old world standards. One piece forged construction of the optimum combination of high carbon - chromium - vanadium stainless steel provides for an easy to sharpen and long lasting edge.