by Karin Calloway


Marinated shrimp is a cocktail party favorite, and this recipe takes a Thai twist for a recipe that's sure to be a hit at your next get together. Having your fish monger steam the shrimp will save you time in the kitchen. The salad is also delicious made with grilled shrimp. Turn the leftover shrimp into an entrée salad, serving the shrimp atop shredded lettuce and cabbage and thinly sliced cucumbers.


2 pounds steamed large peeled and deveined shrimp
1/3 cup fresh lime juice
2 tablespoons Asian fish sauce
2 tablespoons canola oil
2 tablespoons agave nectar or honey
2 teaspoons minced garlic, about 2-3 large 3 cloves
1 jalapeno, seeded and finely chopped
1/4 cup chopped fresh cilantro, for serving
1/4 cup chopped fresh basil leaves, for serving
1/4 cup chopped fresh mint leaves, for serving
Place cooked shrimp, fish sauce, oil, agave nectar, garlic and jalapeno in a large bowl. Toss well. Taste and add salt, if needed. Cover and refrigerate until ready to serve, up to one day ahead. Stir in the fresh herbs just before serving.



Makes 6-8 appetizer servings.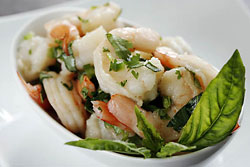 Related Menus


Thai Appetizers



Related Recipe Categories


Appetizers




Related Products


30" Custom Sealed Burner Range - VGCC
The new sealed burner gas range offers updated styling and even more exceptional features. The best can always be better. So our engineers pored over our Viking ranges, fine-tuning every detail in the process. The Pro Sealed Burner System delivers precision control of 15,000 BTUs. And inside the oven, the combination of a 30,000 BTU u-shaped burner and GourmetGlo(TM) infrared broiler provide unrivaled power. 7" Santoku Knife - VCSR


This ultra premium cutlery is handcrafted in Solingen, Germany using old world standards. One piece forged construction of the optimum combination of high carbon - chromium - vanadium stainless steel provides for an easy to sharpen and long lasting edge.