by Karin Calloway


Chicken wings are popular party fare, and this version has Italian flare. A combination of prepared marinara, garlic and red wine coats the wings before they're baked. Fresh garlic, crushed red pepper flakes and Italian seasonings enhance the flavor of the sauce.

The wings can be served immediately after baking, or they can be cooled and stored in the refrigerator overnight. When serving the next day simply reheat the wings on the grill until they're warmed through.


2 cups prepared marinara sauce
2 teaspoons minced garlic, about 3 medium cloves
1 teaspoon crushed red pepper flakes
1 teaspoon dried Italian herbs
1/4 cup dry red wine
1/2 cup freshly grated Parmesan cheese, plus more for garnish
4 pounds chicken wings, tips removed and cut at the joint (reserve tips to make stock)
Preheat oven to 400 degrees F and cover two baking sheets with heavy duty aluminum foil. Combine spaghetti sauce, garlic, red pepper, herbs and wine in a large bowl. Add chicken wings and toss well to coat.

Place the wings on the prepared baking sheet and bake for 45 minutes, turning once. Sprinkle with cheese and return to the oven to bake for 15 minutes more. Garnish with a little more Parmesan cheese before serving. Serve hot or at room temperature.

(Make-ahead note: Wings can be prepared ahead, cooled and stored in the refrigerator in an air-tight container. Reheat briefly on the grill before

serving.)





Makes 8-10 servings.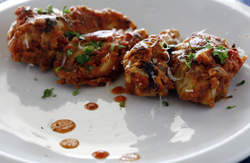 Related Menus


Italian Inspired Cocktail Party



Related Recipe Categories


Appetizers




Related Products


Italian Inspired Cocktail Party
If you've grown tired of serving the same old hors d'oeuvres at your cocktail parties, this Italian Inspired Cocktail Party can be a nice change of pace. The common thread in the menu is the use of your Viking outdoor grill.