Kwanzaa, a week-long celebration that pays tribute to African-American heritage, culminates with a feast held on December 31. It is a joyous night of singing, dancing and, of course, eating. Festival foods include peanuts, sweet potatoes, plantains, collard greens and pumpkins amongst others. In this celebratory dish, spicy peanut sauce creates the perfect foil for sweet crispy coconut shrimp. Also wonderful on raw or grilled vegetables and roasted or grilled chicken, the peanut sauce can be made up to 2 days in advance. Refrigerate when cool, and reheat gently when ready to serve.

Peanut Sauce


3/4 cup coconut milk
2 (packed) tablespoons light brown sugar
3/4 teaspoon tamarind concentrate (or paste)*
1 tablespoon red curry paste
2 teaspoons fish sauce
2 1/2 tablespoons creamy peanut butter
1/2 teaspoon paprika
1/4 teaspoon minced garlic
Shake the can of coconut milk vigorously to combine the thick cream with the thin milk. Combine all of the ingredients in a small sauce pan, and simmer until thickened, about 10 minutes. If too thick, thin with a little water. Set aside until needed.

Shrimp


1/2 cup cornstarch
1/4 teaspoon kosher salt
1/4 teaspoon cayenne pepper, or to taste
3 egg whites
1 1/4 cups sweetened shredded coconut
1/4 cup Japanese breadcrumbs (panko)
1 pound extra-jumbo shrimp (16/20 count), peeled and deveined with tails left intact
Canola oil, for frying
Lime wedges, for garnish
Combine cornstarch, salt and pepper in a shallow dish. Place egg whites in a second shallow dish, and whisk lightly with a fork. Combine coconut and panko in a third shallow dish, and toss to mix evenly.

Dredge a shrimp in the cornstarch mixture, shaking to remove any excess, then dip it in the egg white, coating it thoroughly. Place shrimp in the coconut/panko mixture, and press gently to adhere the mixture to all sides. Transfer shrimp to a clean plate, and repeat process with remaining shrimp. Cover with plastic wrap, and refrigerate for at least 10 minutes and up to 4 hours.

Fill a deep-fat fryer (or deep sauce pan) with about 3-inches of oil, and attach a candy/deepfry thermometer.** Slowly heat oil over medium heat until it reaches 365 degrees F. Fry shrimp in batches until they are golden brown and crisp, about 2 to 3 minutes. Use a skimmer (or slotted spoon) to turn the shrimp while they are cooking to ensure they brown evenly.

Transfer cooked shrimp to a paper towel-lined cooling rack set over a baking sheet. Hold the shrimp in a 200 degree F oven to keep warm until all have been fried. Reheat peanut sauce, if necessary. Arrange shrimp on a serving platter, and garnish with lime wedges. Serve accompanied by warm peanut sauce.



Tips and Techniques



* Tamarind is a tropical seed pod that adds a lovely sour flavor to many dishes. If using tamarind paste, mix 1½ teaspoons of boiling water with the 3/4 teaspoon of tamarind paste. Place in a blender and puree. If needed, strain through a course sieve to remove any remaining fibrous matter. Tamarind paste can be purchased at your local Indian or Asian market, some gourmet grocery stores, or online at importfood.com.

**It is very important to use a deep sauce pan. When the shrimp are added to the hot oil, the oil bubbles vigorously and rises up the sides of the pot very quickly. If a shallow sauce pan is used, the oil can easily rise up and over the sides onto the stovetop. Proper oil temperature is important for best results. To test the temperature, use a deep-fry (or candy) thermometer. If a deep-fry thermometer is not available, fry a one-inch square of bread for one minute. If the cube browns, the temperature is about 365ºF.sauce.

Makes 4 servings

Exclusive recipes provided by Viking Cooking School.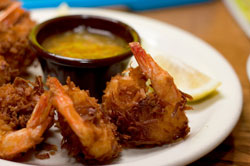 Related Menus
Around-the-World Holiday Cocktail Party
Related Recipe Categories
Appetizers