These hors d'oeuvres are delicious and make a striking presentation. Red curry sauce pools around bites of creamy white halibut that are presented like little gifts inside individual Asian soup spoons.



Curry Sauce:



1 tablespoon peanut oil
1 1/2 tablespoons Thai red curry paste*, or to taste
1/2 tablespoon sweet paprika
1/2 (13.5-ounce) can unsweetened coconut milk (remove and reserve thick cream from top of can)
3 whole kaffir lime leaves
1 tablespoon granulated sugar, or to taste
2½ teaspoons fish sauce (preferably Squid brand), or to taste
3/4 to 1 1/2 tablespoons freshly squeezed lime juice (about 1/2 to 1 lime)
Halibut:
2 (6 to 8-ounce) fresh halibut fillets (or comparable white fish) - about 3/4-inch thick
3 tablespoons freshly squeezed lemon juice (about 1 lemon)
Salt and freshly ground white pepper, to taste
6 fresh Thai basil leaves, cut into a very fine chiffonade, for garnish
For the Curry Sauce: Place a medium sauce pan over medium heat; add the oil and heat
through. Stir in the red curry paste and paprika and cook, stirring often, for 2 to 3 minutes.

Add the thin coconut milk, kaffir lime leaves and sugar, and continue cooking over medium-high heat until the sauce begins to boil and thicken, about 5 to 8 minutes. Whisk in the fish sauce and lime juice, then remove from the heat. Taste and adjust the seasoning as needed with sugar, fish sauce and lime juice.

For the Halibut: Cut the fillets into bite-size cubes; rinse in cold water, then pat dry with paper towels. Sprinkle with lemon juice, then season to taste with salt and white pepper. Arrange a steamer basket in a wok; add enough water to reach just below the steamer basket. Bring to the boil. Place the seasoned fish cubes on an oven-safe plate that is at least 1-inch smaller in diameter than the steamer; set the plate on the steamer rack, then cover with the lid.

Steam the fish, covered, until it is opaque and just cooked through, about 1 to 2 minutes. Remove the steamer from the wok, and transfer the fish to a paper towel-lined platter. Attractively arrange Asian soup spoons on a platter, then place 1 fish cube in each spoon.

To Finish the Sauce: Reheat the curry sauce over medium heat until very hot, about 3 to 4 minutes. If the sauce is too thick, add a tablespoon or two of warm water to thin. Just before serving, remove the pan from the heat, then remove and discard the kaffir lime leaves. Stir in the reserved thick coconut cream to combine. Do not continue cooking after adding the cream, or the curry sauce will become oily. Taste again, and adjust the seasoning as needed.

To Serve: Carefully spoon a generous amount of red curry sauce over each fish cube; garnish with the chiffonade of Thai basil, and serve immediately.



Tips and Techniques


* Curry paste is widely available at Asian markets or in the international section of many grocery stores. If you are unable to purchase locally, it may be purchased online at ethnicgrocer.com. Mae Ploy is the preferred brand.

Variation: If you prefer, attractively arrange the fish cubes on a platter. Top each with a bit of curry sauce, and garnish with a chiffonade of Thai basil. Supply cocktail picks for the guests to serve themselves.

Makes 2 dozen



Exclusive recipes provided by Viking Cooking School.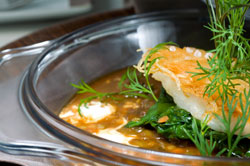 Related Menus
Champagne Cocktail Party
Related Recipe Categories
Main Dishes