The sweet-tart blend of honey and pomegranate molasses makes a wonderful glaze for grilled chicken. Pomegranate molasses is syrup made from cooked pomegranate juice. It is used extensively in Turkish cuisine and other Mediterranean dishes.


2 (6-ounce) boneless skinless chicken breasts
1/2 cup pomegranate molasses*
1/2 cup honey
6 tablespoons freshly squeezed lime juice (about 4 limes)
1 tablespoon finely minced lime zest (about 2 limes)
1 teaspoon finely chopped fresh rosemary
1/2 teaspoon crushed red pepper flakes, or to taste
2 teaspoons cornstarch
2 teaspoons water
Salt, to taste
1 1/2 teaspoons freshly ground black pepper, or to taste
Canola oil, for oiling grill
Pomegranate seeds, for garnish (optional)
12 (6-inch) bamboo skewers** or rosemary branches
Lightly pound the middle portion of each chicken breast to make it an even thickness; cut each breast lengthwise into 1/2-inch thick slices.

Combine pomegranate molasses, honey, lime juice, zest, rosemary and crushed red pepper flakes in a small sauce pan; whisk to combine. Bring mixture to a boil over medium-high heat. Whisk together cornstarch and water to make a slurry; whisk slurry into the mixture, and continue cooking until glaze is thick and saucy, about 3 minutes. Taste and adjust the seasoning as needed with crushed red pepper flakes, salt and pepper. Set the glaze aside to cool completely.

Place chicken strips in a bowl; toss with a generous amount of glaze. Reserve remaining glaze for brushing on while cooking. (Note: To avoid contaminating the cooked product, clean and sanitize the brush after touching the raw chicken skewers.)

Thread the sauced strips onto the soaked skewers.

Preheat grill (or a grill pan) to medium-high heat; oil grill (or grill pan) to prevent sticking. Grill the chicken on the first side until browned, about 2 minutes. Thickly brush the skewers with the glaze, then turn them over and grill until just cooked through, about 1 to 2 minutes more.

Remove skewers from the grill; brush each with more glaze, then sprinkle with pomegranate seeds. Serve warm or at room temperature, passing the remaining glaze separately.



Tips and Techniques



* Pomegranate molasses is a concentrated syrup made from pomegranates. It is available in Middle Eastern markets or in the international section of some grocery stores. If you are unable to purchase locally, it may be purchased online at ethnicgrocer.com.

** To minimize splintering, soak skewers in water for 30 minutes to 1 hour before using. Bamboo skewers typically come in packages of 100. Soak the entire package when you open it. After soaking, briefly drain any unused skewers on paper towels, then place in a large zip-top bag. Store in the freezer; no need to soak again before using!



Variations

: The Honey Pomegranate Glaze is also delicious with pork dishes.

Makes 12 skewers



Exclusive recipes provided by Viking Cooking School.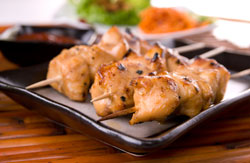 Related Menus
Champagne Cocktail Party
Related Recipe Categories
Appetizers