Red velvet cake is a beloved Southern classic that appears on many holiday tables. It takes its name from both its color and its delicate texture. This recipe delivers the flavors of the traditional layer cake in the form of tiny cupcakes. They are perfect for when you need to serve just a bite of something sweet.


Vegetable oil cooking spray
1 1/4 cups all-purpose flour
1/2 teaspoon baking powder
1/2 teaspoon baking soda
1 teaspoon cocoa powder
1/4 teaspoon fine salt
3/4 cup granulated sugar
1/2 cup canola oil
1 large egg, lightly beaten
1 teaspoon distilled white vinegar
1 teaspoon vanilla extract
1/2 cup buttermilk (preferably not nonfat)
2 tablespoons red food coloring (optional)
1 recipe Cream Cheese Frosting (recipe follows)
Colorful sprinkles and decoratifs, for garnish (optional)
Preheat the oven to 350°F. Line two (12-cup) mini-muffin pans with mini cupcake liners. Lightly spray each liner with vegetable oil cooking spray. If you prefer, you may use silicone mini-muffin pans.

Sift the flour, baking powder, baking soda, cocoa powder and salt into a large mixing bowl. Set aside until needed.

Combine the sugar, oil, egg, vinegar and vanilla in the work bowl of an electric stand mixer fitted with the paddle attachment. Mix on medium speed until light and fluffy, about 2 minutes.

Reduce the speed to low, then add 1/2 of the flour mixture; beat until just combined. Add the buttermilk and food coloring; increase the speed to medium, and mix to incorporate. During the mixing process, turn off the mixer and scrape down the sides of the bowl with a rubber spatula as needed.

Reduce the speed to low, then add the remaining flour mixture. Mix on low speed for a few seconds, then raise the speed to medium. Continue mixing until the batter is smooth.

With a small scoop,* scoop an even amount of batter into each muffin cup, filling almost all the way to the top. Bake until a toothpick or cake tester inserted into the center of a cupcake comes out clean, about 20 to 25 minutes.

Remove the cupcakes from the oven, and transfer to a wire rack to cool completely.

Pipe or spread frosting onto the cooled cupcakes, then decorate with your favorite sprinkles and decoratifs, if desired.



Tips and Techniques


* Spray the inside of the scoop lightly with vegetable oil spray before scooping the cupcake batter. The batter will slide out easily, and the scoop will be a breeze to clean!

Make It Ahead: The baked, completely cooled, unfrosted cupcakes will stay fresh in an airtight container for up to 2 days.

Makes 2 dozen



Exclusive recipes provided by Viking Cooking School.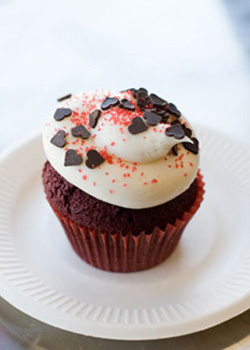 Related Menus
Champagne Cocktail Party
Related Recipe Categories
Desserts