by Karin Calloway


Cranberries are a holiday favorite, and this quick and easy Chilled Cranberry Soup turns just a few ingredients into a yummy starter for a holiday brunch or dinner.

The soup can be made a day ahead and chilled overnight in the refrigerator. Add a dollop of vanilla yogurt to each serving when ready to serve. Make the presentation extra special by pulling through the yogurt with the tip of a pairing knife to create a floating pink poinsettia in each serving.


2 10-ounce bottles cranberry juice cocktail
1 15-ounce can jellied cranberry sauce
1 teaspoon ground cinnamon
1 6-ounce container vanilla yogurt, plus more for garnish
Combine all ingredients in a blender or food processor and puree until smooth. Refrigerate until ready to serve. Garnish each serving with a dollop of yogurt.



Makes 6-8 servings.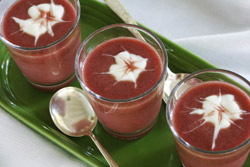 Related Menus


Holiday Brunch



Related Recipe Categories


Soups and Salads




Related Products


Holiday Brunch
If you're hosting holiday guests you most likely have two goals. You want your guests to feel welcomed and to enjoy themselves and you'd like to enjoy yourself, too. This easy holiday brunch allows you to achieve both goals.