This recipe was perfected in the kitchen of a real Viking customer. Join My Viking Kitchen and enjoy more recipes like this, plus cooking tips and special offers exclusively for owners of a Viking kitchen.

Jim & Bridget, Viking Owners



How often do you cook in your Viking kitchen?




Every day – at least twice, and quite often three meals.





What's your most memorable kitchen moment?




I love to cook with my husband while our entire family is sitting at the island, swapping stories.





What does your Viking kitchen mean to you?




I love the versatility. I have more options, so I can be more efficient in my cooking.





What is one of your favorite dishes to cook?




Texas sheet cake!





Texas Cake




2 cups flour
2 cups sugar
½ teaspoon salt
2 eggs
½ cup sour cream or buttermilk
1 tsp. baking soda
1 cup margarine
1 cup water
4 Tbsp. cocoa

Combine flour, sugar, salt, eggs, sour cream, and baking soda. In a saucepan, boil margarine, water and cocoa. Add to flour mixture. Mix well and pour into a greased 18x12x1-inch cookie sheet. Bake at 350 degrees F for 20-25 minutes.



Icing




½ cup margarine
6 Tbsp. milk
4 Tbsp. cocoa
1 box (16 oz.) powdered sugar
1 tsp. vanilla extract
1 cup chopped pecans

In a saucepan, boil the margarine, milk, and cocoa. Mix powdered sugar, vanilla, and pecans. Combine the two mixtures and stir. Ice cake in the cookie sheet as soon as it comes from the oven.



Yields 12-16 servings.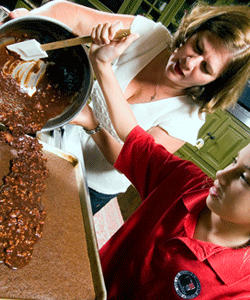 Related Recipe Categories
Unlinked
Related Products
7-Ply Sauce Pans

Viking Professional Cookware products are manufactured with exclusive Multi-Ply construction. Multi-Ply construction is a specially designed combination of stainless steel and aluminum alloys for lifetime performance, durability with easy cleanup, quick and even heat distribution.

The ergonomic stainless steel handle, a Viking Design exclusive, provides maximum comfort and secure handling. Designed in the USA, made in Belgium.
2 qt. and 3 qt. sauce pans are currently on backorder.
48" Open Burner Range - VGIC

Viking offers the most popular widths, surface configurations, and color finishes for the VGIC ranges to provide design versatility. They are equipped with high-performance features such as convection baking/broiling and the VariSimmer setting.
This product has been discontinued.