by Karin Calloway


Winter salads can seem quite dull given the lack of spring and summer fruits and vegetables. But you can also look at a winter salad as a reason to feature the season's best citrus fruits.

The citrus in this salad comes from fresh oranges, which appear in a sweet and tangy dressing and also in segments which garnish the dressed greens. The base for the dressing is fig preserves, which you can find in most supermarkets. The combination of the sweet preserves, red wine vinegar, orange juice and zest and salty kalamata olives makes this a vinaigrette you'll want to make again and again.

Dressing


1/2 cup (4 ounces) fig preserves
1/4 cup red wine vinegar
Zest from one orange
1/2 cup freshly squeezed orange juice
2 tablespoons Dijon mustard
1 teaspoon minced garlic, about 1 large clove
1/2 cup extra virgin olive oil
1/2 cup finely chopped pitted kalamata olives
Whisk preserves, red wine vinegar, orange zest and juice, mustard and garlic together in a bowl. Whisk in olive oil. Fold in the olives. Refrigerate until ready to serve.



Salad




1 5-ounce package baby Arugula
1 5-ounce package spring mix
Orange segments from 3 oranges
1 cup toasted walnuts, coarsely chopped
Place greens in a large bowl and toss with some of the vinaigrette. Divide greens among chilled salad plates. Top each salad with some of the orange segments and sprinkle with the toasted walnuts. Pass the remaining vinaigrette at the table.



Makes 6 servings.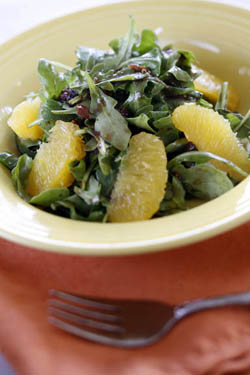 Related Menus


Citrus Season



Related Recipe Categories


Soups and Salads




Related Products


Citrus Season
Entertain your friends this winter with a menu that features one of the season's best ingredients: Citrus.