by Karin Calloway


Cauliflower is often an often maligned vegetable, but I've noticed it appearing more frequently on restaurant menus over the past few years, as chefs are pairings a base of smoothly pureed cauliflower with meats and a drizzling of truffle oil.

I set out to create a similar pairing by serving this simple Cauliflower Mash with my Chicken Marsala with Truffles and Brie. The cauliflower pairs beautifully with the truffle oil and mushrooms in the dish. You can also use the mash as a base for pan-seared sea scallops drizzled and top each serving off with a little drizzle of white truffle oil.


1 head cauliflower, about 2 pounds, cut into florets
4 medium all-purpose potatoes (about 5 oz), peeled and cut in 1 1⁄2-inch chunks
2 teaspoons minced garlic, about 2 large cloves
1/2 cup milk
2 tablespoons butter
1/4 cup chopped fresh parsley leaves
1 teaspoon fresh lemon zest
Sea salt and freshly grated black pepper, to taste
Place cauliflower and potato in a large sauce pan. Cover with water and bring to a boil over medium-high heat. Reduce heat and simmer 8-10 minutes, until vegetables are tender. Drain vegetables and return to the pot Add remaining ingredients and mash until smooth. Cover to keep warm.



Makes 6 servings.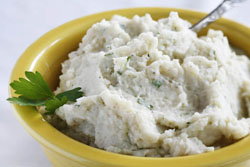 Related Menus


Citrus Season



Related Recipe Categories


Vegetables and Sides




Related Products


7-Ply Sauce Pots


Viking Professional Cookware products are manufactured with exclusive Multi-Ply construction. Multi-Ply construction is a specially designed combination of stainless steel and aluminum alloys for lifetime performance, durability with easy cleanup, quick and even heat distribution.

The ergonomic stainless steel handle, a Viking Design exclusive, provides maximum comfort and secure handling.

The 5.5 qt. Sauce Pot is currently on backorder.

48" Custom Sealed Burner Range - VGCC
This new sealed burner gas range offers updated styling and even more exceptional features. The Pro Sealed Burner System delivers precision control of all burners, including the new TruPower Plus™ 18,500 BTU burner included on select models, six burner. And inside the oven, the combination of a 30,000 BTU u-shaped burner and 1,500 degree F GourmetGlo™ infrared broiler provide unrivaled power.