by Karin Calloway


Kebabs are perfect party fare, and these Zesty Lamb Kebabs will be a welcome addition to your next event. They're extremely flavorful and pair beautiful with a glass of hearty red wine.

While I used lamb tenderloins, which are only available at gourmet butcher shops, you can substitute cubes of boneless leg of lamb. The kebabs also can be served as a main dish alongside some simple couscous (see Spiced Couscous recipe on this site) and a steamed vegetable.



Zesty Lamb Kebabs



1 tablespoon minced garlic, about 3 large cloves
3 tablespoons extra-virgin olive oil
1 tablespoon fresh rosemary, finely chopped
1 teaspoon paprika
1 teaspoon ground cumin
1/2 teaspoon cayenne pepper
1/2 teaspoon ground all spice
1/2 teaspoon ground cinnamon
1 tablespoon chopped fresh thyme leaves
1 tablespoon finely grated lemon zest
Sea salt and freshly ground black pepper
4 pounds lamb tenderloins or boneless leg of lamb trimmed and cut into 1-inch-by-3-inch strips
Wooden skewers, soaked in warm water for 30 minutes, or metal skewers
Combine all ingredients except the lamb in a large zip-top plastic bag. Squeeze to combine and then add lamb. Seal bag and marinate at least 2 hours.

Thread lamb evenly onto skewers. Prepare grill to medium-high heat. Oil the grill and cook the kebabs, turning once, for about 8 minutes total for medium-rare lamb.



Makes 8 servings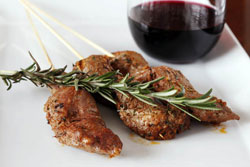 Related Menus


Wine Tasting Party



Related Recipe Categories


Appetizers




Related Products


36" Custom Sealed Burner Range - VGCC
The new sealed burner gas range offers updated styling and even more exceptional features. The best can always be better. The Pro Sealed Burner System delivers precision control of 15,000 BTUs. And inside the oven, the combination of a 30,000 BTU u-shaped burner and GourmetGlo™ infrared broiler provide unrivaled power.