by Karin Calloway


Prosecco is a nice, crisp sparkling wine from Italy that is most commonly known as an ingredient in bellini cocktails. Here, Prosecco becomes the finale at a fun wine tasting party. The recipe allows you to taste Prosecco a few different ways. First, you'll sip the prosecco from champagne glasses. Second, it appears in a light Vanilla Prosecco Gelee. The last Prosecco presentation is a quick Strawberry Soup with a hint of fizz from the bubbly wine.



Prosecco Dessert Duo





Vanilla Prosecco Gelee



1 cup water, divided
2 envelopes powdered gelatin
1 cup sugar
1 vanilla bean
1 bottle (750 ml) Prosecco
Juice of 1/2 lime

Pour 1/2 cup of the water into a large bowl. Sprinkle the gelatin over the water and allow it to soften for 5 minutes.

Combine the remaining 1/2 cup water with the sugar in a saucepan. Split the vanilla bean and scrape the seeds into the saucepan and add the bean. Heat, stirring, until the sugar is dissolved. Remove the vanilla bean.

After the gelatin has soaked for 5 minutes, pour the hot water mixture over it and stir until completely dissolved. Whisk in the Prosecco and lime juice. (The Prosecco will foam up, which is why you need the large bowl.)

Spray 8 6-ounce ramekins or molds with nonstick cooking spray. Divide the gelatin mixture among the ramekins, place on a baking sheet and refrigerate until set, at least 3 hours.



Makes 8 servings.





Strawberry Prosecco Soup



16 ounces frozen strawberries in syrup, defrosted
1 cup Prosecco
1/4 teaspoon salt
3/4 cup vanilla yogurt
Garnish: Freshly grated black pepper

Purée the strawberries, Prosecco and salt in a blender until smooth. Add the yogurt and blend until smooth. Taste and add more sugar, if needed. Refrigerate until ready to serve. Serve soup in chilled small bowls or demitasse cups. Sprinkle with black pepper.



Makes about 8 (1/2-cup) servings.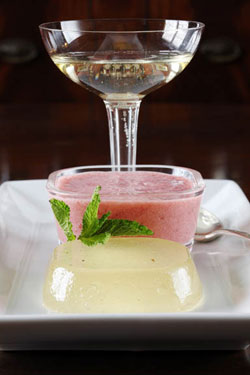 Related Menus


Wine Tasting Party



Related Recipe Categories


Desserts




Related Products


36" Custom Sealed Burner Range - VGCC
The new sealed burner gas range offers updated styling and even more exceptional features. The best can always be better. The Pro Sealed Burner System delivers precision control of 15,000 BTUs. And inside the oven, the combination of a 30,000 BTU u-shaped burner and GourmetGlo™ infrared broiler provide unrivaled power.