by Karin Calloway


I learned how to make Indian-style rice pilaf from an Indian friend who always shows up to parties with a big bowl of her fragrant basmati pilaf. Her method differs from others I've tried because she starts by grinding onion and ginger in a food processor, while most recipes call for caramelizing sliced onions as the first step.

The resulting dish is delicious, and can be made into a main dish by adding some sautéed boneless, skinless chicken thighs. Just dice up three or four thighs and sauté them in a little ghee or vegetable oil and then stir them in when you add the rice.



Basmati Pilaf




1 onion, peeled and cut into chunks
2 tablespoons peeled and coarsely chopped fresh ginger root
2 tablespoons ghee or vegetable oil
1 teaspoon garlic, about 1 medium clove
1 tablespoon garam masala
1 teaspoon turmeric
1 teaspoon salt
1/4 teaspoon cayenne pepper, or more to taste
2 cups basmati rice
4 cups water
Chopped fresh cilantro, to taste, for serving

Grind the onion and ginger together in a food processor fitted with a metal blade. Heat the oil in large saucepan and cook until dry, about 8 minutes, stirring well to prevent sticking. Add the garlic, garam masala, turmeric, salt and cayenne and cook for 1 minute, until fragrant. Stir in the rice and sauté until rice begins to turn opaque, about 4-5 minutes. Stir in the water and bring to a boil. Reduce heat, cover and simmer for 20 minutes, until rice is tender. Stir in the cilantro before serving.



Makes 6 servings.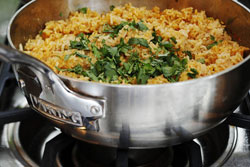 Related Menus


Indian on the Grill



Related Recipe Categories


Vegetables and Sides




Related Products


Indian on the Grill
My husband, Bond, and I are big fans of Indian food. We're also big fans of our Viking 53-inch gas grill. We found a way to combine the two in this menu that is perfect for summer entertaining.