by Karin Calloway


My supermarket used to sell fresh bourbon-marinated salmon fillets for a premium price. They were a tasty solution to an unplanned work-night dinner. I played around and came up with a version of my own, which is more economical and every bit as tasty.

I like to serve the salmon as part of an entrée salad during the spring and summer. The salmon can be grilled or roasted, and is delicious paired with crisp greens, a honey-mustard dressing and some crunchy, sweet honey roasted cashews.

Bourbon Salmon Salad


1/4 cup packed brown sugar
3 tablespoons bourbon whiskey
2 tablespoons soy sauce
2 scallions, chopped
4 salmon filets (about 1 1/4 pounds)
1/2 cup olive oil
1/4 cup red wine vinegar
1 tablespoon Dijon mustard
2 tablespoons honey
1 teaspoon salt
1/4 teaspoon freshly ground black pepper
1 bag salad greens
24 cherry tomatoes
1 cup shredded Monterey Jack cheese
1/2 cup honey-roasted cashews or peanuts

In a small bowl combine brown sugar, bourbon, soy sauce and chopped scallions. Place salmon filets in a zip-top plastic bag and pour marinade over. Marinate in the refrigerator 1 hour, or at room temperature for 15 minutes. Remove salmon from the marinade and grill over hot coals 5 minutes per side. (Or, roast the salmon in a 450-degree oven for 10 minutes.)

While salmon cooks, combine olive oil, vinegar, mustard, honey, salt and pepper in a jar. Shake well. (This makes about 1 cup of dressing).

Place salad greens in a large bowl and toss with 1/2 cup of the dressing. Reserve remaining dressing for another use. Divide greens among 4 dinner plates. Top with the hot salmon, and garnish with the cherry tomatoes, shredded cheeses and honey-roasted peanuts.



Makes 4 servings.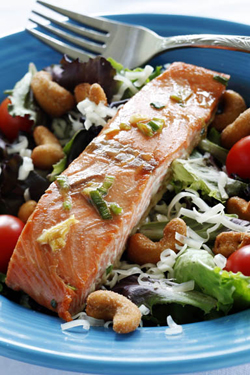 Related Menus


Summer Salad Supper



Related Recipe Categories


Soups and Salads
All
NOT TVL
The Viking Life




Related Products


Summer Salad Supper
The lazy days of summer offer the perfect opportunity for casual entertaining. Leave the china in the cabinet, forget setting the dining room table and just head to the back porch for a cool meal of hearty summer salads.