by Karin Calloway


I've played around with sweet potato salad recipes for some time, and am sharing my favorite version here. It includes both sweet and Yukon gold potatoes and instead of a cloying mayonnaise-based dressing, is tossed with a simple mixture of cider vinegar, olive oil, Creole mustard and honey.

There are two schools of thought regarding how to best prepare the potatoes for a grilled potato salad. One is to baste the potato slices with oil and throw them straight on the grill. I have found this method makes it difficult to control the amount of char you get on the potatoes, so I like to par-boil the potatoes first, which decreases their time on the grill while still giving them great grilled flavor.

This salad is best served warm or at room temperature.



Grilled Two-Potato Salad




4 strips thick-cut bacon, preferably applewood-smoked, cooked and crumbled
1 pound Yukon gold potatoes, about 2 large, scrubbed, dried and peeled
1 large sweet potato or yam, about 1 large, scrubbed, dried and peeled
4 green onions, washed and dried
Olive oil for coating the potatoes, plus 1/4 cup extra-virgin olive oil for the dressing
1 tablespoon apple cider vinegar
1 tablespoon Creole or other grainy mustard
1 tablespoon honey
Salt and freshly ground black pepper, to taste

Place potatoes in a large Dutch oven and cover with water. Bring to a boil and simmer for 10 minutes. Drain potatoes and rinse with cold water to cool. When cool enough to handle, slice the potatoes into 1/2-inch discs. Very gently toss the sliced potatoes with a little olive oil, coating well. Season with salt and pepper, gently tossing again.

Preheat grill to medium-high.

Prepare the dressing: combine 1/4 cup olive oil with the vinegar, mustard and honey. Season to taste with salt and pepper.

Reduce grill heat to medium and place the potatoes and the green onions on the coolest part of the grill. Cover and grill for 4 minutes. Remove the green onions and set aside to cool. Turn potatoes and grill 4-5 minutes more, until soft in the center. Transfer to a cutting board. When cool enough to handle, cut the potatoes in half and place in a serving bowl. Chop the grilled green onions and add to the potatoes. Pour the dressing over the potatoes and sprinkle with the crumbled bacon. Toss well. Serve immediately or cover and keep at room temperature for up to 2 hours before serving.



Makes 6 servings.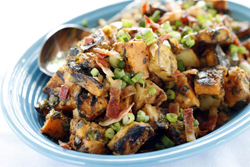 Related Menus


Summer Salad Supper



Related Recipe Categories


Soups and Salads
All
NOT TVL
The Viking Life




Related Products


Summer Salad Supper
The lazy days of summer offer the perfect opportunity for casual entertaining. Leave the china in the cabinet, forget setting the dining room table and just head to the back porch for a cool meal of hearty summer salads.