by Karin Calloway


Fresh, ripe mangoes are the perfect finale at a Thai-inspired meal. But you can turn those perfect mangos into something a little more special by turning them into a mousse.

This mousse could also be called a panna cotta because the coconut milk, ripe mango and sour cream are congealed in softened unflavored gelatin. The result that is delicious and light.



Coconut-Mango Mousse




3/4 cup coconut milk
1 packet unflavored gelatin (or 2 teaspoons)
1 1/2 cups diced ripe mango or 1 1/2 cups frozen diced mango, defrosted
1/2 cup reduced-fat sour cream
1/3 cup sugar
1 teaspoon coconut extract
Small cubes of fresh mango and mint sprigs, for garnish

Put 1/4 cup of the coconut milk in a small saucepan and sprinkle the gelatin over. Let stand 5 minutes. Heat at low-medium heat until the gelatin dissolves (do not allow to boil). Remove from the heat and let cool.

Combine the mango, 1/2 cup coconut milk, sour cream, sugar, and coconut extract in a blender. Purée until smooth. Add the gelatin mixture and blend again. Divide mixture among 6 individual gelatin molds or wax-lined paper cups. Cover with plastic and chill at least 1 hour before serving. To serve, unmold the mousses or cut the paper cup away and invert the mousse onto chilled dessert plates. Garnish with the mango and mint.



Makes 6 servings.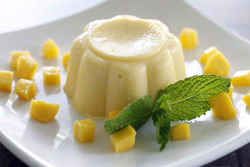 Related Menus


Casual Thai



Related Recipe Categories


Desserts




Related Products


Casual Thai
As the lazy days of summer wind down, you may have grown tired of the traditional barbecues and cookouts of the season and you're probably looking for an alternative to the same old menus.