by Karin Calloway


While my husband, Bond, and I love seeing the sights and experiencing new places, it's the culinary adventures we relish most when we travel. Several years ago we enjoyed a trip to New York City for our 20th anniversary. One especially memorable meal on our trip was enjoyed at Campanile, an Italian restaurant on 29th Street, between Park and Madison Avenues. Everything was delicious and the service was amazing, but it was Bond's rustic entrée of Chicken and Sausage Scarpariello that was the culinary home run.

Upon our return to Augusta, I recreated the dish for Bond. It is pure comfort food, combining an oregano-scented bell pepper sauce with sautéed chicken and sausage pieces. If you grill extra sausage and chicken breasts on the weekend, you can refrigerate them and then cut them up a few days later in place of the sautéed chicken and sausage in the recipe.

Along with sliced bell peppers, the recipe calls for bottled cherry peppers. In some areas you can find jars labeled hot or sweet, but in our area I was only able to find sweet cherry peppers. They work well in the recipe, making it palatable to most family members.



Chicken and Sausage Scarpariello




2 tablespoons olive oil plus 2 tablespoons for the sauce
4 boneless, skinless chicken breast halves
1/2 teaspoon plus 1 teaspoon dried oregano leaves, divided
Salt and freshly ground black pepper
4 links sweet Italian turkey sausage or regular Italian sausage
1 large onion, peeled and thinly sliced
2 bell peppers, cored and thinly sliced
3 teaspoons minced garlic, about 4 medium cloves
6-8 cherry peppers bottled in vinegar, cored and coarsely chopped
1/2 cup dry white wine
1/2 cup chicken broth
1/4 cup fresh lemon juice or red wine vinegar
1/3 cup chopped fresh parsley

Heat 2 tablespoons of the oil in a large sauté pan over medium-high heat. Season the chicken with the 1/2 teaspoon of the oregano, salt and pepper. Place the chicken in the heated pan and brown on the first side for about 3 minutes. Turn over and brown on the other side 3 minutes more. Remove from the skillet and set aside. Brown the sausages in the same skillet until almost done, about 5 minutes per side. Remove from the skillet and set aside.

Add the remaining 2 tablespoons of oil to the skillet and heat over medium-high. Add the onions and bell peppers and sauté until the vegetables begin to brown, about 5 minutes. Add the garlic and sauté about 2 minutes more.

Cut the chicken and sausage into bite-sized pieces and return to the pan along with the vegetables, hot cherry peppers, remaining 1 teaspoon oregano, dry white wine, chicken broth, lemon juice or red wine vinegar. Cover and bring to a boil. Reduce heat and simmer 10 minutes. Sprinkle with parsley and serve.



Makes 6 servings.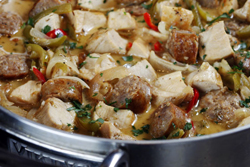 Related Menus


Italian Weeknight Dinner



Related Recipe Categories


Main Dishes




Related Products


Italian Weeknight Dinner
It's Monday night. You arrive home from work and the first question the family asks isn't "How was your day?" At least at my house, the nightly question is "What's for dinner?"