Peach Cobbler Bars
by
Cobbler is a homey, comforting dessert that highlights in-season fruits, and I've come up with a way to make it portable in my Peach Cobbler Bars. The recipe is extremely simple, as it starts with two convenience products: packaged cake mix and canned pie filling.
A French vanilla cake mix is the base for the crust and crumb topping in these fruity bars. The addition of melted butter, rolled oats and a beaten egg yields a nice firm crust. Some of the crust mixture is set aside for the topping before the egg is added, to be combined with additional oats, pecans, brown sugar and cinnamon. Use the same bowl to mix the crust and topping to make cleanup a breeze.
During the summer months, I like to fill the bars with peach pie filling since peaches are in season. The canned pie filling has just the right amount of fruit and glaze to cover the crust in a 9-by-13-inch baking dish. Apple, cherry or berry pie fillings can substitute for the peach, giving you loads of fruity options in these luscious sweet treats.
While I love the combination of the French vanilla cake mix and peach pie filling, this is a great recipe to personalize. Using a lemon cake mix, omitting the cinnamon from the topping and substituting blueberry pie filling in place of the peach would net you lemon-blueberry bars. A spice cake mix with apple pie filling would be a good combination this fall. For black forest bars, use German chocolate cake mix and cherry pie filling. And, strawberry cake mix and pie filling produces bars with over-the-top strawberry flavor.


1/2 cup (1 stick) butter or margarine, divided
1 18.25-ounce French vanilla cake mix
1 1/4 cups rolled oats, divided
1 egg, beaten
1 21-ounce can peach pie filling
1/2 cup chopped pecans
1/4 cup brown sugar, packed
1/2 teaspoon ground cinnamon
Preheat oven to 350 degrees F. Spray a 9-by-13-inch glass baking dish with nonstick cooking spray and set aside.
Melt 6 tablespoons of butter. Stir cake mix, melted butter and rolled oats together in a large bowl until mixture is crumbly. Set aside 1 cup of mixture. Stir beaten egg into remaining mixture and press into bottom of the prepared baking dish. Spread pie filling over crust.
Melt remaining 2 tablespoons of butter and stir together with remaining crumb mixture, pecans, brown sugar and cinnamon. Crumble evenly over pie filling and bake for 40 to 45 minutes, until golden. Cool completely before cutting into squares.
Makes 12 servings.

Print This Page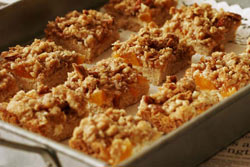 Related Menus
Catfish Fry
Related Recipe Categories
Desserts

| | |
| --- | --- |
| | Karin Calloway is a working mom living in Augusta, Ga., with multiple freelance jobs and a ton of dirty dishes. |