Jamaican Jerk Catfish Salad
Jamaican Jerk Catfish
2 U.S. Farm-Raised Catfish Fillets
¼ cup vegetable oil
2 tablespoons Jerk seasoning
1 bag salad greens
½ mango, sliced
½ red bell pepper, finely diced
1 plantain, sliced in thin strips and fried, optional garnish
Jamaican Dressing
¼ cup canned chipotle in adobo sauce
1 lime, juiced
1½ teaspoons sugar
1 tablespoon olive oil
2 tablespoons water
¼ cup sour cream
2 tablespoons fresh cilantro, chopped
1. Combine vegetable oil and Jerk seasoning in small bowl. Toss fillets with mixture to coat. Cover bowl with plastic wrap; marinate 30 minutes or overnight.
2. Preheat grill.
3. On hot grill, place catfish serving side down.
Cook 4 minutes, turn and cook another 4 minutes or until done. Remove from grill and set aside to cool. Slice on the bias into 1-inch strips.
4. Place salad greens on plate. Add layer of mango, grilled catfish and red bell pepper. Drizzle with Jamaican Dressing and top with fried plantain strips if desired.
Serves 2
Jamaican Dressing
Puree adobo, lime juice and sugar in blender. Slowly drizzle in oil while running. Next, drizzle in water while running. Add sour cream and blend until smooth. Add cilantro and pulse a few times to blend.
Recipe provided by The Catfish Institute.

Print This Page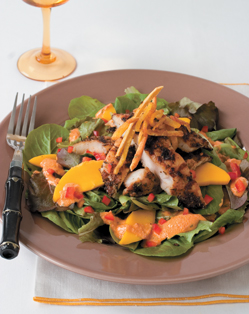 Related Recipe Categories
Soups and Salads
The Catfish Institute
Viking Owner's Exclusives