Zucchini
by
I'm still receiving plenty of zucchini from my CSA, and I recently turned it into a layered casserole that I served as the center of a vegetarian meal.
This recipe couldn't be simpler and the final dish couldn't be tastier.
I used mozzarella cheese in the dish, but you could use any cheese you have on hand: Cheddar, Jack, gruyere...whatever you like.
You can also add a layer of sliced tomatoes or eggplant, or top each slice with some marinara sauce. And, when I made this I had a few small yellow squash, so I sliced those up and added them to the layers.
I layered everything up in a springform pan so that I could slice this into wedges, sort of like a crustless squash tart. If you do the same, be sure to place the pan on a baking dish or wrap the bottom in foil just in case the juices from the squash decide to escape. If you bake this in a regular round casserole dish you probably won't be able to cut the casserole into wedges, but it'll still taste great!
I served the cheesy zucchini with some freshly baked baguettes and sliced tomatoes. I made the baguettes from the Master Recipe from Artisan Bread in Five Minutes a Day but used a special baguette pan on top of my baking stone to create these beautiful loaves. (I still can't believe the bread I am churning out from this wonderful book! Here's a post I wrote about it a while back: Artisan Bread in Five.)
Oh, and the seasonings I used for this layered dish were super simple, just some Bosari and black pepper. (Here's a post about the Bosari.) Feel free to use any seasonings you like. Simply salt, pepper and a little fresh or dried tarragon would be my usual go-to for squash. Or, use Italian seasoning or Fines Herbes.
Squash Bake
5-6 zucchini or yellow squash, or a combination of both, fairly thinly sliced
2 cups shredded mozzarella cheese
Bosari seasoning and freshly ground black pepper, to taste
Preheat oven to 375 degrees.
Spray a 10-inch springform pan with nonstick cooking spray and set aside.
Layer 1/3 of the squash in the bottom of the prepared pan. Sprinkle with some Bosari and freshly ground black pepper. (Be careful with the Bosari...it is salty.) Sprinkle with 1/3 of the cheese. Continue layers, ending with the cheese. Cover with foil and place on a baking sheet. Bake for 30 minutes. Remove foil and bake for 15 minutes more. Set aside for 5 minutes before removing the sides of the pan and serving.
Makes 6 servings.

Print This Page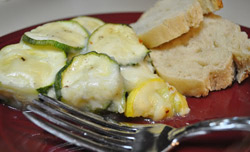 Related Recipe Categories
Vegetables and Sides

| | |
| --- | --- |
| | Karin Calloway is a working mom living in Augusta, Ga., with multiple freelance jobs and a ton of dirty dishes. |