Scalloped Cabbage
by
My family has a history with scalloped dishes. In fact, my 95-year-old grandmother and my Mom are known for their scalloped potatoes. So, I took their basic recipe: potatoes with a cheese sauce, baked until bubbly and browned, and added some other influences. What resulted was a Southern-style side dish that is perfect for a covered dish dinner or holiday buffet.
You can easily cut this recipe in half and bake in a nine-inch square baking dish. However, next time I make this I'll divide it into two baking dishes and take one to a neighbor, friend...and definitely to my friend who brought me the cabbage in the first place. I'm just nice like that.
Scalloped Cabbage Casserole
1 large head cabbage, cored and thinly sliced
1 tablespoon salt
1 tablespoon sugar
6 tablespoons butter, plus 2 tablespoons for the topping
6 tablespoons flour
8 cups milk
Salt, pepper and freshly ground nutmeg, to taste
3 cups shredded sharp cheddar cheese
1 sleeve round buttery crackers, crushed (Ritz crackers were used for testing purposes)
Preheat oven to 350 degrees. Fill a 6 to 8-quart Dutch oven 2/3 full of water. Add the salt and sugar. Cover and bring to a boil. Add the cabbage, stir and return to a boil. Reduce heat and simmer for 5 minutes, until slightly tender. Drain and set aside.
Heat the 6 tablespoons of butter in a saute pan. When melted and bubbly, shisk in the flour. Cook, stirring, for about 1 minute. Slowly whisk in the milk. Cook, whisking occasionally, for 8-10 minutes, until thickened. Season to taste with salt and pepper and just a few pinches of freshly ground nutmeg.
Return cabbage to the Dutch oven (to eliminate dirtying up a large bowl) and pour the white sauce over the cabbage. Stir to coat all of the cabbage well. Fold in the cheese. Spray a 30quart casserole or 9-by-13-inch baking dish, with nonstick cooking spray. Spread the cabbage mixture in the dish and bake for 45 minutes.
Remove from the oven and sprinkle with the crushed crackers. Place thin slices of the remaining 2 tablespoons of butter over the top, return to the oven and bake for 30 minutes more, until bubbly and browned around the edges.
Makes 8-10 side dish servings.
Note: Recipe can easily be cut in half. Bake in a 9-inch square or 2-quart baking dish.

Print This Page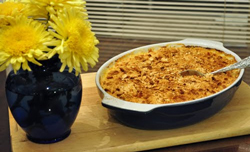 Related Recipe Categories
Vegetables and Sides

| | |
| --- | --- |
| | Karin Calloway is a working mom living in Augusta, Ga., with multiple freelance jobs and a ton of dirty dishes. |