Catfish Etouffée
2 U.S. Farm-Raised Catfish Fillets
3 tablespoons olive oil, divided
1 to 2 cups mixed bell peppers, diced
½ cup red onion, diced
½ cup celery, diced
2 tablespoons fresh garlic, chopped
2 cups of your favorite etouffée sauce
2 teaspoons Cajun seasoning spice blend
1 cup rice, cooked
1. Heat 2 tablespoons olive oil in sauté pan over high heat; add peppers, onion, celery and garlic. Sauté until onions are soft. Add etouffée sauce and reduce to a simmer.
2. In another skillet, heat 1 tablespoon olive oil over medium high heat. Sprinkle fillets with Cajun seasoning. Place into skillet and sauté for approximately 4 to 5 minutes.
3. Turn fillets over and gently pour etouffée sauce over fillets. Reduce heat to low; simmer approximately 5 minutes or until catfish is cooked through.
4. Serve over rice.
Serves 2
Recipe provided by The Catfish Institute.

Print This Page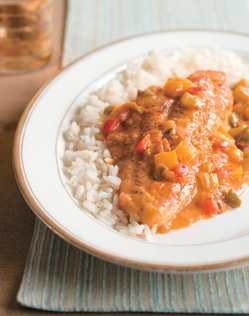 Related Recipe Categories
Main Dishes
The Catfish Institute
Viking Owner's Exclusives