Catfish Salad in Pita
2 U.S. Farm-Raised Catfish Fillets, cooked and flaked
1 tablespoon Cajun seasoning
1 red bell pepper, diced
1 green bell pepper, diced
1 cup celery, diced
½ red onion, finely diced
½ cup green onion, thinly sliced
1 cup mayonnaise
1 tablespoon hot sauce
Salt and pepper to taste
4 whole-wheat pita rounds, split and opened
8 green leaf lettuce leaves
1 large tomato, sliced (optional)
1. Sprinkle cooked catfish with Cajun seasoning.
2. Combine catfish, bell peppers, celery, onion, mayonnaise, hot sauce, and salt and pepper in bowl; mix well.
3. Place lettuce leaf and tomato slice in each pita half; spoon in catfish salad.
Serves 4
Counting carbs? Forget the pita, and simply serve
atop a bed of fresh lettuce.
Recipe provided by The Catfish Institute.

Print This Page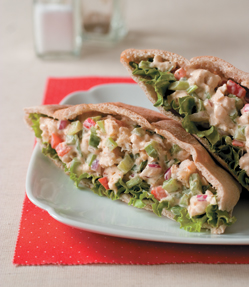 Related Recipe Categories
Main Dishes
The Catfish Institute
Viking Owner's Exclusives