Blue Crab Beignets
Serves: Serves 12
Courtesy of: Chef Justin Devillier, La Petite Grocery
Batter
1 cup all-purpose flour
1/4 cup plus 2 tablespoons corn starch
1 tablespoon baking powder
pinch of salt
pinch of pepper
1 cup Abita amber beer
vegetable oil for frying as needed
Filling
1/2 cup Louisiana blue crab meat, picked through for shells
1/2 cup mascarpone cheese
1/4 cup chives
1 shallot, very small diced
2 teaspoons salt
pinch of pepper
Instructions:
Batter
Mix all dry ingredients. Add beer slowly until batter is just thicker than pancake batter. Set aside, covered, at room temp for up to 2 hours.
Filling
Mix all ingredients in a medium sized bowl and form into 1/2 ounce balls.
To complete beignets
Heat oil in a fryer or cast iron skillet to 375ºF. Drop crab filling balls in the batter and lift out with a teaspoon. Gently drop them into the oil and fry for 2 to 3 minutes until golden brown and hot all the way through.

Print This Page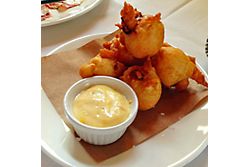 Related Recipe Categories
Appetizers