Pear and Pine Nut Bread
by
Right now the food world is infatuated with cheese. Today, cheese making is an art form, and artisanal cheeses are available at specialty food stores across the country, and can be ordered online with the click of your mouse. Cheeses from France, Italy and many other countries also can be found both locally and by mail order.

Being a cheese lover, I am particularly fond of this trend, and developed a Pear and Pine Nut Bread that can be enjoyed during a cheese course with a wedge of Gorgonzola and a glass of port.

The bread is a simple quick bread, full of fresh Bosc pear chunks, toasted pine nuts and flavored with vanilla and almond. While I love to serve the bread as a cheese course, it's also a wonderful addition to a weekend brunch or as an accompaniment to a bowl of soup.
1/2 cup butter, softened
1 cup sugar
2 eggs
2 cups all-purpose flour
1/2 teaspoon salt
1 teaspoon baking powder
1/4 cup sour cream
1 teaspoon vanilla extract
1 teaspoon almond extract
1 cup peeled and diced ripe Bosc pear, about 2 pears
1/2 cup toasted pine nuts
Preheat oven to 350 degrees F. Spray a loaf pan with nonstick cooking spray and set aside.

Cream butter and sugar in a medium bowl with an electric mixer. Add eggs, one at a time. Add the dry ingredients, sour cream, vanilla and almond extract, beating until there are no lumps. Fold in the diced pears and the pine nuts and pour into the loaf pan. Bake for 1 hour.

Makes 1 loaf.

Print This Page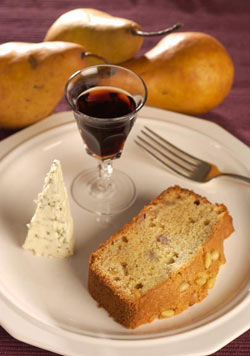 Related Recipe Categories
Appetizers

| | |
| --- | --- |
| | Karin Calloway is a working mom living in Augusta, Ga., with multiple freelance jobs and a ton of dirty dishes. |