Simplified Chicken Bastilla
by
One of my favorite courses at a Moroccan meal is bastilla – a flaky appetizer pie with a savory filling dusted with powdered sugar. No matter whether the filling is chicken or vegetables, I love the combination of sweet and savory flavors.
My Simplified Chicken Bastilla is a snap to prepare with frozen phyllo dough and a rotisserie chicken. The dough defrosts in the refrigerator or on the counter and is quite easy to work with. Here, the dough is layered in a 10-inch spring-form pan and brushed with butter, forming the base of this tasty pie.
This beautiful savory dish masquerades as a dessert until you cut into it. While I suggest it as a first course here, the bastilla also makes a nice brunch or luncheon dish served with the Morrocan Carrot Salad featured on this site.
8 ounces slivered almonds
1/2 teaspoon cinnamon, plus 1/2 teaspoon for chicken filling and additional for top of bastilla
1/3 cup powdered sugar, plus 1/4 cup for the chicken filling and additional for top of bastilla
1/4 cup butter, plus 1/4 cup for brushing on the filo dough
1 medium onion, peeled and finely chopped
1 rotisserie chicken, skin removed, meat taken off the bones and shredded
1/2 teaspoon ground black pepper, or to taste
1 pinch saffron
3/4 cup chopped fresh parsley
1/4 cup chopped fresh cilantro
3 eggs, beaten
Salt and freshly ground black pepper, to taste
1/2 package prepared filo dough, defrosted in the refrigerator for several hours or overnight (12 sheets will be used, in all)
Preheat oven to 400 degrees F. Toast almonds in a skillet until golden. Grind in a food processor fitted with a metal blade with the cinnamon and sugar until almonds reach the consistency of ground coffee. Set aside.
Heat butter in a large skillet over medium-high heat. Add onion and sauté until very soft. Add shredded cooked chicken, pepper, saffron, cinnamon, parsley, cilantro and salt to taste. Simmer until chicken is heated through. Whisk eggs, 1/4 cup of powdered sugar, salt and pepper to taste into the chicken mixture. Bring back to a boil, remove from heat and set aside.
Spray a 10-inch spring-form pan with nonstick cooking spray. Place 1 sheet of the phyllo dough in the bottom of the prepared pan, extending some over the sides. Brush with butter and place another sheet in the bottom of the pan, so that the bottom and sides of the pan are fully covered. Repeat with 2 more pieces of dough, brushing each with butter before adding another sheet. Sprinkle half of the almond mixture over the dough. Top with three sheets of phyllo, brushing each sheet with butter.
Spoon chicken mixture over dough. Top with three more sheets of phyllo dough, brushing each with butter. Spread with remaining almond mixture. Top with 1 sheet of phyllo dough and brush with butter. Fold the excess dough over the top and brush with butter. Bake 35 minutes, or until it's golden. Sprinkle with powdered sugar and cinnamon, slice into wedges and serve.
Makes 8 servings.

Print This Page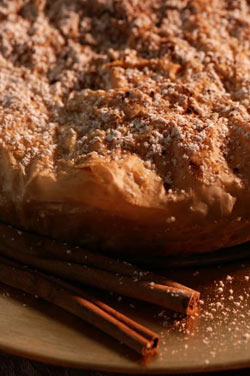 Related Menus
Memorable Moroccan
Related Recipe Categories
Appetizers

| | |
| --- | --- |
| | Karin Calloway is a working mom living in Augusta, Ga., with multiple freelance jobs and a ton of dirty dishes. |