Baked Eggs with Tomato Bernaise
by
Holiday brunch has become a tradition at our house. After opening presents, my family cleans up the wrapping paper while I prepare a big spread. Include a new recipe when serving brunch this holiday season. This recipe for Baked Eggs with Tomato Bernaise is simple to prepare, yet can feed a crowd.

Most supermarkets now carry packages of precooked bacon, which cut your time in the kitchen dramatically. The flavor isn't as good as regular bacon, but when used in this dish, the difference is hardly noticeable. Round out your menu with fruit salad and coffee cake, for an unforgettable brunch any time of year.


6 slices white bread, toasted
12 slices partially cooked bacon
12 large eggs
1 package Bernaise sauce mix
1/2 cup tomato puree
1 small tomato, finely diced squeeze of fresh lemon juice, optional
1 bunch fresh tarragon, optional, for garnish


Preheat oven to 350 degrees F. Cut each piece of toast into two 2-inch rounds. Place in the bottom of a greased 12-cup muffin pan. Wrap a piece of bacon around the outside of each muffin cup. Break one egg into each cup. Place pan in oven and bake for 20 minutes, or until eggs reach desired doneness.

While eggs bake, prepare Tomato Bernaise. Prepare Bernaise sauce mix according to package directions. When thick, stir in the tomato puree and chopped tomato. Taste the sauce, and add a squeeze of fresh lemon juice to taste, if desired.

Serve the baked eggs on a platter, topped with the Tomato Bernaise and garnished with a sprig of fresh tarragon, if desired.

Makes 12 eggs, or 6 servings.

Print This Page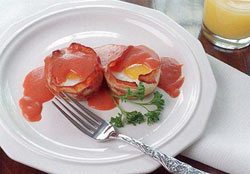 Related Recipe Categories
Breakfast and Brunch

| | |
| --- | --- |
| | Karin Calloway is a working mom living in Augusta, Ga., with multiple freelance jobs and a ton of dirty dishes. |