Sausage and Grits Pie
by
A bowl of steaming grits is a Southern wakeup call in many homes. Topped with a fried egg, some would call it Southern heaven. Add a sprinkling of cheese for those who need their grits slightly doctored, and you've got breakfast or a popular side dish at a summer fish fry.

Sausage and Grits Pie is a hearty breakfast or brunch pie that's the perfect way to introduce you to this staple of the South. The recipe begins with a package of instant grits. Using instant grits is blasphemy in some Southern homes. And, in my home instant grits are a "weekday only" option as well. However, one package of instant grits provides the perfect amount for the pie.

The recipe calls for half a pound of breakfast sausage. I like to go ahead and brown the whole package of sausage, freezing the extra sausage for another use. Or, simply double up and prepare two pies. Add some bakery muffins and prepared fruit salad from the produce department, and you'll have a delicious breakfast or brunch.


1/2 pound pork breakfast sausage
1 package plain instant grits*
1 cup water
1 cup skim milk
3 eggs
1/2 teaspoon dry mustard
1/2 teaspoon hot pepper sauce, optional
3/4 cup shredded sharp cheddar cheese

Preheat oven to 350 degrees F. Brown sausage in a nonstick skillet until no longer pink, breaking up with a wooden spoon as it cooks. Drain and set aside to cool.
Stir instant grits and water together in a small saucepan over medium-high heat, bring to a boil and cook until grits begin to thicken. Set aside to cool.

Combine milk, eggs, dry mustard and hot pepper sauce in a medium bowl. Add sausage, cooked grits and shredded cheese. Pour into a glass baking dish and bake for 45 to 50 minutes, until the center is set and the pie bubbles around the edges. Set aside 10 minutes before serving.

Makes 6 servings.

*One package of instant grits contains a scant 1/3 cup of grits.


Print This Page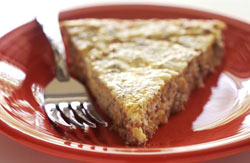 Related Recipe Categories
Breakfast and Brunch

| | |
| --- | --- |
| | Karin Calloway is a working mom living in Augusta, Ga., with multiple freelance jobs and a ton of dirty dishes. |