Baked Shrimp with Feta Cheese
by
Years ago, when I worked as a feature writer for The Augusta Chronicle, I wrote an article about cooking videos. At the time, VCR's were just becoming popular, and there weren't many videos on the market.

Martha Stewart, whom I interviewed by phone, was working on a tape to go along with her Weddings book, and the late New York Times food columnist Craig Claiborne had a video that was just released. Julia Child also was working on a video series as a companion to her book, The Way to Cook.

The Claiborne video included many recipes that have remained in my repertoire, including a wonderful and complicated chocolate mousse cake. But the favorite dish we tried was a simple casserole of tomatoes, shrimp and capers, topped with crumbled feta cheese.

I've changed the dish a bit from the original, which Claiborne called Girades mi Feta. Eliminating several steps in the preparation, along with the butter originally included, makes his simple dish even easier to prepare, yet the final results are just as delicious. A green salad and some crusty bread are all you'll need to make this into a memorable meal.


1 tablespoon olive oil
1 teaspoon chopped garlic
1 teaspoon dried oregano
1/2 teaspoon red pepper flakes
1 28-ounce can peeled and diced tomatoes
1 3.25-ounce jar capers, drained
1 pound peeled and deveined shrimp
4 ounces crumbled feta cheese

Preheat oven to 350 degrees F. Heat a large skillet over medium-high heat and add olive oil, garlic, oregano and red pepper flakes. Saute briefly, without allowing the garlic to brown, about 2 minutes. Add tomatoes, stirring well, and bring to a boil. Cook at a rapid simmer, stirring frequently, until juices are reduced and sauce is slightly thickened, about 5 minutes. Add capers and season to taste with salt and black pepper.
Spread half of the sauce in a baking dish and top with shrimp. Top with remaining sauce and sprinkle with crumbled feta. Bake 15 to 20 minutes, until bubbling hot and shrimp are pink.

Makes 4 servings.

Print This Page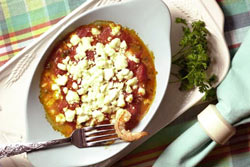 Related Recipe Categories
Main Dishes

| | |
| --- | --- |
| | Karin Calloway is a working mom living in Augusta, Ga., with multiple freelance jobs and a ton of dirty dishes. |