Cajun Fettuccine
by
The Cajun craze hit the nation in the '80s, when I was a new bride and had just begun to take an interest in cooking. Chef Paul Prudhomme dazzled the world with his spicy, flavorful recipes. Later, Emeril Lagasse brought the tastes of Louisiana to the masses.
This recipe for Cajun Fettuccine is a tribute to these two fine chefs. Thick strands of fettuccine are coated in a simple yet spicy cream sauce filled with crawfish tails, sliced mushrooms, green onions and red bell pepper. A bit of sherry and Parmesan cheese enhance the sauce's flavor.
Feel free to substitute cubed chicken or shrimp for the crawfish. Or add half a pound of smoked sausage to the sauce for another variation. This rich recipe is the perfect way to spice up your entertaining or special occasions.
1 pound dry fettuccine
1/2 cup butter or margarine, divided
1 bunch green onions, green and white parts, chopped
12 ounces white button mushrooms, cleaned and sliced
1 red bell pepper, cored, seeded and sliced
2 teaspoons minced garlic
1 tablespoon Cajun seasoning, in all
1 pound frozen cooked and peeled crawfish tails, thawed and drained, or peeled and deveined shrimp
2 cups whipping cream or half and half
1/2 cup dry sherry, optional
1/2 cup shredded Parmesan cheese
Bring a large pot of water to a boil. Add fettuccine and cook according to package directions.
Meanwhile, heat 2 tablespoons of butter or margarine over medium high heat in a large skillet. Add green onions, mushrooms and red bell pepper strips and saute 2 to 3 minutes. Add garlic and 2 teaspoons of Cajun seasonings and saute 3 minutes more. Add cream or half and half, bring to a boil and reduce to a simmer. Stir in sherry and Parmesan and keep warm.
In another skillet, melt remaining 2 tablespoons of butter or margarine. Add crawfish tails and remaining 1 teaspoon Cajun seasoning and heat through. (If using shrimp, saute until shrimp are no longer pink.) Add to the sauce and pour over pasta. Serve with additional Parmesan cheese.
Makes 6 servings.

Print This Page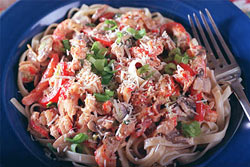 Related Recipe Categories
Main Dishes

| | |
| --- | --- |
| | Karin Calloway is a working mom living in Augusta, Ga., with multiple freelance jobs and a ton of dirty dishes. |